Moving Across the World and Changing Roles: Meet Jake McInteer
At MongoDB, our employees are empowered to transform their careers and grow in the direction they want to. Jake McInteer is a perfect example of that — after building his career in London at MongoDB on our Solutions Architecture team, he is relocating to Sydney while transitioning to the Enterprise Sales team in the region. Take a look at this interview and learn more about his career path and what he's most excited for in his new role.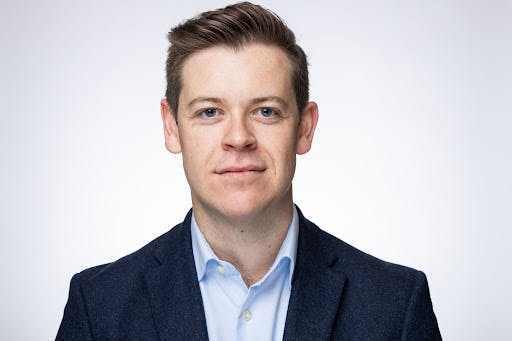 Jess Katz: Tell us a bit about how you wound up working at MongoDB
Jake McInteer: I'm a Kiwi (New Zealander) who has always had a passion for technology - I think it's probably in my blood as my parents met at the Government Computing Centre back in the '80s and just about everyone on my dad's side of the family works in technology as well!
I tried to be different from my family and study Accounting at university but quickly got bored and switched to an Information Systems degree. After that, I moved into a Consulting role with IBM, but I always felt myself gravitating more toward go-to-market functions. Eventually, I had the opportunity to move to a Presales role in a smaller company specialising in data and analytics and lept at the chance.
My time in my first Presales role really confirmed for me how great of a space it is - an intersection between technology and business that gave me an opportunity to work on a wide variety of different things.
In 2019, I made the call to move over to London with my partner for some overseas experience and started looking for a new role. MongoDB's reputation of a high performance culture that was disrupting a market dominated by stodgy legacy vendors really excited me and put them at the top of my list.
On landing in London in July 2019, I met with the Solutions Architecture Manager for Northern Europe and together we pushed through a handful of interviews within two weeks. The rest, as they say, is history.
JK: What was your onboarding experience like?
JM: In one word, incredible.
From MongoDB University, through coaching sessions with people across the Solutions Architecture team and trips to HQ in New York City attending Sales Bootcamp and New Hire Technical training - I was left in awe at the resources MongoDB invests to give new hires everything they need to launch their careers at MongoDB.
JK: What does a Solutions Architect (SA) at MongoDB actually do?
JM: An SA at MongoDB is a technical expert that helps customers understand and evaluate MongoDB. We work closely with the Sales team to help potential customers understand the value of MongoDB as well as when and why to use it.
In practice, this means we work closely with our customers' development teams, with various people spanning software engineers, database administrators, product owners, security specialists, architects and more! We also support our marketing team by running various workshops and webinars. From time to time we also work on our own projects, building out various demos and applications.
JK: Tell us a bit about what you've been working on as an SA
JM: Being an SA at MongoDB has given me the opportunity to work on some of the biggest transformation initiatives of some of the largest companies in the world. I've been privileged to work with leading organisations across Financial Services, eCommerce, and even the Air Transport industries while in the role, and on projects that affect millions of customers and billions of passengers - it's been incredibly rewarding.
As we went virtual due to COVID-19, I also ran some of our first virtual-only workshops and webinars, including building out demos and hands-on workshops for developers to complete.
JK: So what's next for you in terms of your career?
JM: I'm actually right in the middle of making a big move! My manager and I have always had regular development conversations since I started, and last year I expressed an interest to continue my growth and development into a full-time sales role, as well as my personal desire to move back down under and be a little closer to family in NZ. While I absolutely love the MongoDB team in the UK and have developed friendships here that will last for a lifetime, I am looking forward to further building my career with the team in Sydney.
This move is also a career change! With huge amounts of support from my manager and others across the business, I'm making the transition from Solutions Architect to Enterprise Account Executive in Sales. I start my new role at the beginning of September and I'm excited to get started.
It's been awesome being a part of our UK team as it has gone from strength to strength, and I'm excited to get started with our Australian Sales team next. The Australian team is firing on all cylinders and is led by the impressive Jeremy Powers. In my view, it's a great place, team, and environment for me to make the shift into a full-time Sales role and to continue developing my career all while being closer to family back home.
JK: What are you most excited for in your new role?
JM: Two things have got me super excited to get started.
Firstly, the opportunity to make the transition into an Enterprise Account Executive role and join our formidable sales organisation is an opportunity too good to pass up.
Secondly, I'm particularly looking forward to the opportunity to work with businesses in New Zealand and introducing new customers to the incredible technology we offer here at MongoDB. New Zealand has a burgeoning tech sector and some incredibly interesting companies and opportunities - one great example is THL Digital who we've done a lot of work with recently. I can't wait to help them solve some of their biggest challenges and give developers down under a better way to work with data.