MongoDB Has Revamped Its Parental Leave Policy
To kick off the new year, the MongoDB Human Resources team introduced an updated Parental Leave Policy to the company. Now that MongoDB has over 900 employees globally, the previous policy was no longer suitable or scalable, and it had the potential for improvement. With each new year we strive to be better and do more based on the needs, wants, and interests of our employees.
My name is Dan Heasman and I am the most recent addition to the MongoDB leadership team. As Chief People Officer and a father of two, I was particularly passionate and excited about updating our parental leave. A strong support for mothers and fathers at the start of the incredible parenting journey is absolutely essential to our goals of fostering a highly inclusive culture and ensuring MongoDB is a great place to come and build a career.
The new policy, effective as of January 1, 2018, allows for 20 weeks of paid leave for both mothers and fathers, as well as additional programs to provide assistance. Parental leave can be taken at any time, in separate durations if desired, within the first year. To facilitate a smooth transition when returning to work, employees are also able to participate in an additional 4-week flexible work arrangement with intermittent leave within the first year. This is all in addition to our unlimited vacation policy and flexible work from home standards.
I spoke with some of our employees regarding the policy, including those who experienced the previous version, and those who are already experiencing or will experience the new policy. They provided some really great insight on the real concerns expecting parents face while maintaining their career.
Andy Schwerin, Vice President of Engineering for the MongoDB Core Server team, is responsible for the design and development of sharding, replication and query execution, and the teams that build them. He is a father of three, having had one child in his first year at MongoDB and adding two more in the years since.
"Before our second child was born we had just moved to New York and our biggest concern was that my wife would go into labor while I was at the office. At the time, MongoDB was a much smaller company with limited leave policies. I think the new policy is a terrific idea. Talented, motivated people are hard to hire and important to retain. A generous parental leave policy sends the message that MongoDB values its employees, and that it's willing to support employees as we grow our families."
A gender neutral approach was particularly important for us moving forward because both parents should be able to share the responsibilities regardless of gender.
Duncan Armstrong is a Senior Developer, working as a backend developer on MongoDB cloud products, as well as mentoring, pairing, and reviewing code for other developers. He is also the father of 15-month-old twin boys. For his wife, pregnancy was incredibly difficult due to a medical condition, and Duncan needed a lot of support from his leaders and team at MongoDB.
"I had to work from home often, or work off hours so I could look after and help my wife. There was never any hint of disapproval from my manager. The only problem with our previous program was that four weeks of leave wasn't really sufficient. It's hard enough for inexperienced parents to look after one newborn, but with twins, it was a full on rollercoaster. I really had to figure out how to manage my time. Because MongoDB has unlimited general leave it was easy to take extra time off when I needed to, and I was able to work from home a lot the first few months.
"In regards to the new policy, I'm so happy MongoDB has taken this step. As a father I know it can be hard bonding with your newborn. In the beginning they don't give you much in return for your many efforts and the only way around that is to spend a lot of time with them. I don't know how you can get that kind of bonding time if you've got to be back at the office full-time after just a couple of weeks."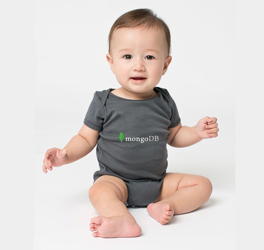 Keeping these types of experiences in mind, we opted to provide additional benefits within the program to address some of the common obstacles expecting parents will face during pregnancy.
The MongoDB Parental Buddy Program provides support by connecting both birth, foster, and adopting parents as they prepare for the arrival of their baby, during their parental leave, and during their return to work.
LUCY provides employees with fully personalized and customizable counselling. From pregnancy through the baby's first year, sessions are conducted by a team of licensed, vetted health and wellness experts on all aspects of taking parental leave – from coping with morning sickness to choosing the right childcare.
Our global Employee Assistance Program provides employees with free counseling sessions to and includes a program to help new parents deal with the natural stress and emotional adjustment that comes with being a first time parent. (EAP offers free counseling for all employees, not only new parents.)
Ozge Tuncel is our VP of Customer Success and Sales Development, working out of our NYC headquarters for the last three years. A little over a year ago, Ozge was the only expecting mother in our New York office.
"At the time, there was no one other than me going through the experience in New York. The policy was three months of leave, with the ability to work from home as needed, and a very nice private room in the office available as a mother's room. Our HR team had a great process to help with formal steps, the executive team was very supportive during my transition back to work, and flexible working hours were very helpful. What we lacked was an informal peer support system that any new parent needs. We now have more new parents, a new-moms Slack channel, and the Parental Buddy Program, which are all great for advice and support."
We are very excited for our currently expecting parents and future parents-to-be to experience all that the new program has to offer. New parents can now expect flexibility baked in, removing the need to request or negotiate time off or time away – which can be perceived either by the employee or manager as an individual accomodation, one that generally comes at the cost of other members of the team.
Jen Tyrseck is our Director of Corporate Communications, managing company-wide communications internally and externally to help people learn more about and gain confidence in MongoDB. She recently had her first child at the end of January, and is the first employee to experience our updated parental leave policy.
"Thinking back to the beginning of my pregnancy, I did have a number of (unwarranted) concerns regarding how I would balance working full time and the challenges of pregnancy. Things like, 'Would I become suddenly sick at my desk? Would my team question my commitment to the job and company? Could I manage the new expectations required of me to continue performing well in my job, while raising a family?'
"I've really been impressed with the support I've received. A flexible, work-from-home as needed schedule has permitted me the time to attend all doctor's appointments. I also have access to licensed health and wellness experts for customized counselling on planning for parental leave, preparing for labor and delivery, and newborn basics as well as counselling sessions after the baby comes regarding lactation, sleep transitioning, and how to ease back to work. A strong network of women interested in mentoring and sharing experiences to learn how to balance the inevitable changes, including how to balance my life in two full-time roles, has also been invaluable."
Graham Neray is the Chief of Staff to MongoDB CEO Dev Ittycheria. His wife, Meghan Gill, is our VP of Sales Operations, and reports directly to CRO Carlos Delatorre. They met at work, married in October of 2016, and welcomed their first child in early January of this year.
Both are extremely passionate about their careers, and are on very lean teams, so questions arose when they decided to start a family – particularly how to adapt to being on leave at a fast-paced company where things are constantly evolving, and how to balance their roles at MongoDB while adjusting their schedules to their new lives as parents.
"On other teams, everyone can take on a little bit of what you're doing – maybe 10% or 20% each while you're out. As Chief of Staff, I am essentially a team of one and I do a little bit of everything," Graham noted, "so I had to find other people on other teams to pitch in while I'm on leave – in finance, marketing, partners, and HR. Dev's EA helped out a lot too. In the end, everyone has been very supportive, especially Dev. Over and over he told me: 'family comes first.' "
"The most important thing for us is flexibility," said Meghan. "For instance, we were both able to easily step out for appointments while I was pregnant, and through LUCY, we took several classes to prepare for life as new parents. Now that we have a baby, there will of course be more visits to the doctor and other things that pop up.
"MongoDB has been a center of gravity for us for a while – now we have a new center of gravity. From our experience during the pregnancy, it's comforting to know that we can successfully make use of a flexible work arrangement to get it all done."
Current parental leave standards throughout the world, and in the U.S. especially, can de-prioritize starting a family if the choice has to be made between pursuing a career and beginning this new life, rather than doing both at the same time. We are proud of the steps we are taking to ensure no MongoDB employee ever feels obligated to make that choice, and has the support they deserve from the organization they have selected to give their dedication and time.