MongoDB at AWS re:Invent: Workshops, Talks, Parties, and More
Join us at AWS re:Invent 2022 in Las Vegas. At our re:Invent booth and in our sessions, we'll show how MongoDB Atlas on AWS lets you build applications that are highly available, performant at global scale, and compliant with the most demanding security and privacy standards. MongoDB Atlas on AWS also provides the convenience of consolidated billing and simplified procurement through your AWS account. Learn how developers can use AWS and MongoDB features together to build the next big thing in AI, application modernization, serverless analytics, or any number of use cases.
As the flagship conference of one of the leading cloud providers (and a close MongoDB Partner), AWS re:Invent features more than 1,500 workshops, presentations, and demos, and draws more than 50,000 attendees. AWS re:Invent runs from November 28 through December 2 at six properties on the Las Vegas strip: The Venetian, the Wynn and the Encore at the Wynn, Caesars Palace, MGM Grand, and Mandalay Bay. AWS re:Invent is a great place to experience next-generation products firsthand, connect with other like-minded peers, thought leaders, and more.
Read on to learn what MongoDB has planned for this event, and to plan ahead for your own AWS re:Invent journey.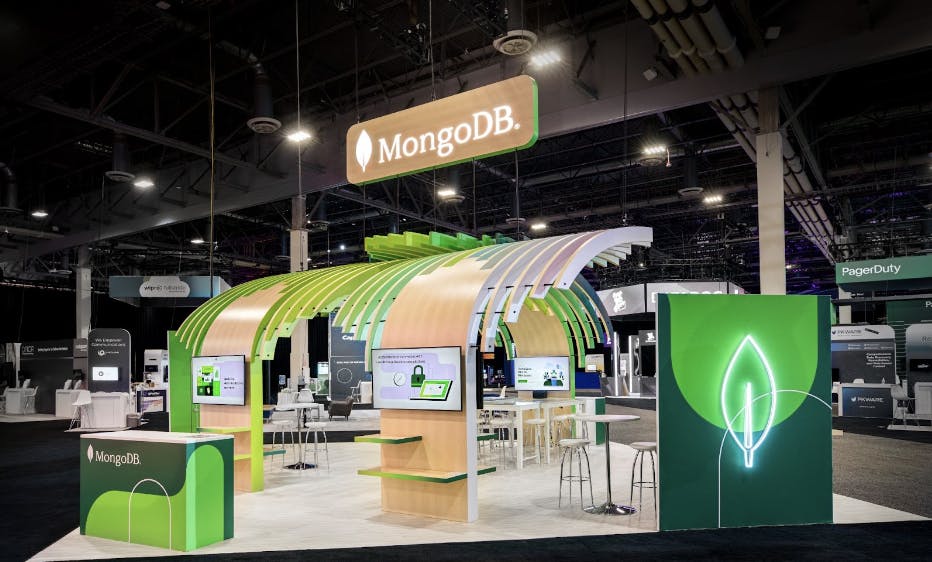 Meet, learn, and engage at MongoDB locations
For questions about specific use cases and to meet with MongoDB experts, visit Booth #1611, located in the Expo Hall at The Venetian, or check out our after hours events, hosted at The Emerald Lounge at Sugarcane Raw Bar Grill at The Venetian.
This year, the MongoDB booth includes interactive demo kiosks showcasing MongoDB Atlas, our fully managed developer data platform, and to check out guided workshops on security, mobile app development, and more.
The MongoDB booth will also include a series of lightning talk sessions on a variety of subjects, from data modeling to Queryable Encryption. These lightning talks and tutorials cover specific topics, such as using MongoDB alongside AWS products such as Wavelength, and may also include an interactive component. To attend, head to our in-booth theater, where seats are available on a first-come, first-served basis.
In the evenings, check out our events hosted at Sugarcane. On Tuesday night from 6-8 p.m. PST, MongoDB, Vercel, and PluralSight will host the Gamer's Paradise Pub Crawl, where you can mingle and play arcade, board, and video games. On Wednesday night at 9 p.m. PST, stop by for our Desert Disco, co-hosted with our partner, Confluent, and featuring DJ Malibu Cathy, top shelf drinks, and food. RSVP now to reserve your spot.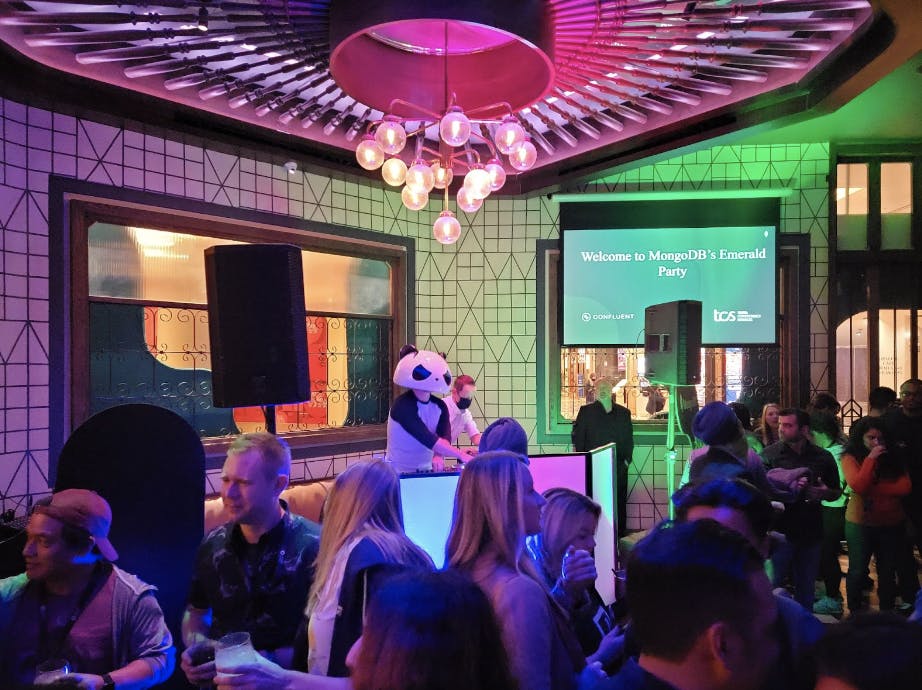 Listen to MongoDB speakers
MongoDB experts and executives will be featured at AWS re:Invent, hosting breakout sessions on the growing partnership between MongoDB and AWS; the evolving data landscape; how these dynamics affect developers, applications, and users; and the rise of edge computing.
First, CISO Lena Smart will give a talk on "The Rise of the Developer Data Platform," highlighting the concept of a product ecosystem built around a common API, enabling developers to easily build more reliable, scalable applications, and to drive innovation. Smart will also touch on how this new digital paradigm has affected security, and how the developer data platform serves as a unifying philosophy for all MongoDB features and releases. Afterwards, Smart will join MongoDB Principal Developer Advocate Karen Huaulme, Senior Vice President of Products Andrew Davidson, and Executive Keynote Advisor Krista Braun for a fireside chat and live Q&A on the developer data platform.
In her talk on "10 Things You Didn't Know Your Data Could Do for You," Principal Developer Advocate Karen Huaulme will discuss how developers can avoid being overwhelmed by the abundance of data today. She'll also dig into how to put data to work, whether it's deriving analytical insights, powering diverse workloads, or developing practical functionality. Huaulme will draw on her extensive background to share common mistakes and teachable moments, so you can avoid the same pitfalls.
Developer Relations Director Rick Houlihan will cover going from RDBMS to NoSQL, introducing NoSQL in a new light—not just as a technology, but as a philosophy. Transitioning from relational to non-relational doesn't only involve migrations, but also requires a shift in mindset in areas such as data modeling and everyday operations. As the former head of Amazon's NoSQL Blackbelt team, Houlihan speaks from experience, as he led Amazon's migration from relational to NoSQL, and played a pivotal role in modeling thousands of production workloads and retraining more than 25,000 developers on this new paradigm.
Alongside AWS team members, Realm Specialist Solutions Architect Mark Brown will deliver a talk on architecting and delivering applications at the edge with AWS hybrid cloud and edge computing services. Brown and his AWS collaborators will explain the unexpected challenges of edge computing and demonstrate possible solutions. Be sure to bring your laptop!
Learn how MongoDB can empower you to build apps on AWS faster and easier
To try MongoDB and AWS products for yourself, deploy and manage Atlas from your AWS environment through AWS Quick Start, as well as through AWS CloudFormation.
From there, you can connect a wide range of AWS services with MongoDB tools for any use case. For instance, you can build serverless, event-driven applications with MongoDB Application Services (formerly known as Realm) and Amazon Eventbridge, migrate legacy applications with MongoDB Atlas on AWS, ingest and analyze streaming data with Amazon MSK and MongoDB, and more. For a more detailed list of AWS and MongoDB integrations, check out our Managed MongoDB on AWS resource.