Telco Scaling Strategies: Modernizing Business Support Systems for Flexible Revenue Growth
Consumers and businesses alike are driving huge demand for innovative telecommunications technology that tests the limits of monolithic, traditional business support system (BSS) architecture.
The competition is fierce within the industry, tipping telcos to differentiate their businesses with fresh digital services like low latency mobile apps, ultra-fast streaming services, virtual reality, and IoT solutions. The worldwide adoption of 5G is driving the change, bringing with it the need to simplify architectures to accommodate the complexity of modern 5G networks, which require multiple assurances, orchestration, provisioning, and charging functions to aggregate data effectively and manage services.
Alongside the development of headline-grabbing technologies, telecommunications enterprises are also busy building increasingly customer-centric experiences. Fast, reliable communication is essential for all people, from the average consumer who expects flawless performance, to the enterprises that need to run mission-critical business processes over telecommunications networks. These interactions matter immensely for customer loyalty.
Partnering together, Tech Mahindra and MongoDB have ushered telcos through their ongoing BSS modernization journeys by enabling business growth and operational efficiencies with solutions ranging from core network functions through to product catalog and customer management systems. Today, we see that the biggest hurdles standing in the way of telco innovation are legacy data architectures that eat up developers' time with time-consuming maintenance work.
Building a consolidated view: Drilling into customer data
Billing modernization is a big market. The global telecommunications billing and revenue management market size reached $13 billion in 2019, and is forecast to expand at a compound annual growth rate of 11.6% to more than $31 billion between 2020 and 2027, according to research prepared by Forrester Research, Inc.
Core, consolidated customer data act as an enabler for many other related solutions that share the need for a solid, reliable record of customer core data. The common factor for payment processing, customer loyalty programs, service provisioning, service usage, and finally billing generation, is customer core data.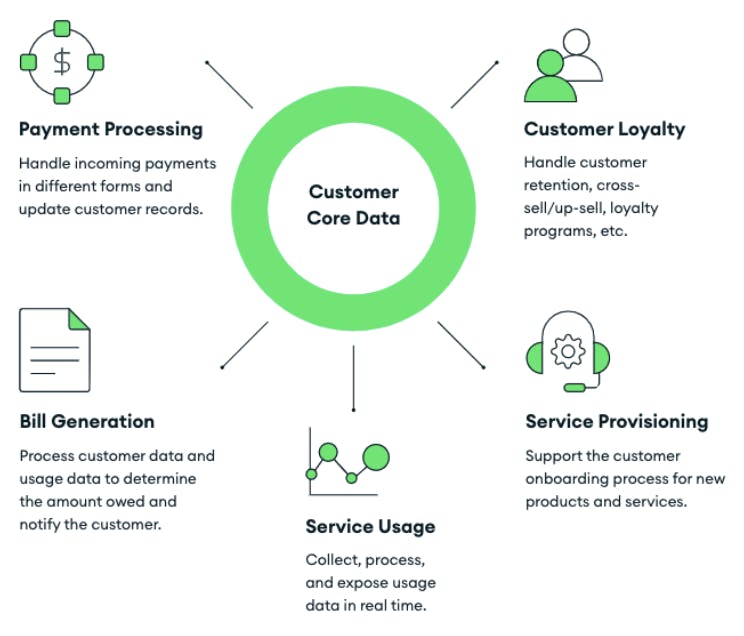 Like many large corporations, CSPs are often made up of siloed application stacks broken out by product area, such as VoIP, mobile, cable, and so on. Since customers use products and services that exist within multiple silos, changes to customer data need to be propagated to multiple systems.
The lack of a single, consolidated view is often a result of historical mergers and acquisitions. Without the ability to analyze data within a single view, opportunities to capitalize on data analytics to uncover cross-selling and up-selling opportunities are lost. Furthermore, enterprises managing multiple parallel billing implementations and the systems' associated data synchronization infrastructure can incur hefty costs and architectural complexity.
The best way to address these challenges is to modernize core customer data systems to have a single view of customers and their billing-related data. At the heart of these modernization projects is the move to a new platform.
Product catalog simplification and the hybrid cloud approach
Akin to the global-scale retailers with some of the most complex product offerings around, telcos have a complicated array of product offerings that require CPQ processes to be able to combine offerings. Whether a telco is combining handsets, tariffs, warranties, add-ons or promotions, managing data in a streamlined and scalable infrastructure is a crucial modernization strategy. What's more, telcos must deliver personalized and real-time shopping experiences to customers across web, mobile, phone, and in-store platforms to stay competitive.
The modernization and simplification of a telco's product catalog architecture can quickly turn into a complicated mess when certain existing legacy systems must stay in place. Making one swift rip-and-replace move can be a big risk with costly implications for long-term transformation projects.
Today, more and more successful modernization strategies are achieving omnichannel implementation and multi-play services goals by migrating incrementally. This enables telcos to set the stage for a successful migration, at the right pace for the company. A key part of a modernization strategy is often a move from a self-managed, on-premise architecture to a cloud-based one. Initially, a hybrid cloud strategy is often more cost-efficient, and acts as an important stepping stone in any enterprise's digital transformation journey.
The limits of existing legacy systems inhibit telcos' ability to scale and grow. As the telecommunications industry reimagines how to apply new technology in the digital-first world, heavier reliance on the public cloud is delivering operational and competitive advantages. But for an industry with complex legacy infrastructure and loads of personal data, moving every workload to the cloud isn't feasible yet.
Through implementation projects with telcos around the world, Tech Mahindra has proven that a central commercial catalog, integrated with the right legacy technical catalogs and BSS stacks, improves time-to-market for launching multiple bundles and offers that are still processed and billed to a single customer.
The benefits of this hybrid approach are immediately apparent:
Faster time-to-market

Increase in sales

Improved customer satisfaction

Reduced handling time

Less fallouts, errors, and training time
Through Tech Mahindra's BlueMarble Commerce solution, underpinned by MongoDB, telecommunications enterprises are quickly overhauling their omnichannel strategy without overhauling their business or existing systems. A true end-to-end omnichannel multi-play solution for telcos, BlueMarble automates channel sales, order management, CPQ (product configuration, pricing, and quoting) and fulfillment, including reverse logistics.
Combatting the complexity of BSS modernization
By putting the needs of their customers first, telco, cable, and media service providers are building a bridge toward seamless and consistent experiences for both digital and physical user experiences. BlueMarble Commerce was built with this principle in mind. 

With its ability to connect with legacy systems using custom-built adaptors and APIs, BlueMarble combines multiple channels in a uniform, seamless manner, helping to simplify telco modernization. MongoDB delivers a multi-cloud database service built for resilience, scale, and the highest levels of data privacy and security. This is critical when building a platform that enables a cohesive, integrated suite of offerings capable of managing modern data requirements for building applications in a microservices framework without sacrificing speed, security, developer experience, and the ability to scale. These were the primary reasons to choose MongoDB for the BlueMarble platform.
With these features of MongoDB Atlas, BlueMarble acts as a federated, overlay solution that masks the complexity of legacy, and enables the creation of new digital functionalities by integrating new digital architectures with existing legacy, eliminating the need to build new bespoke applications.
In conclusion, as telcos compete to provide the exciting new technologies driving change in the industry, they must not lose sight of the customer, or providing customer value. Tech partners like MongoDB and Tech Mahindra are leading the charge in supplying cloud-native, microservices-based architectures in business support systems.