Modernizing and Protecting Data Center Operations with MongoDB and Dell EMC
As part of our ongoing series highlighting our partner ecosystem, we recently sat down with Dell EMC Global Alliances Director, Tarik Dwiek and Director of Product Management, Philip Fote, to better understand how Dell EMC and MongoDB partner to help modernize and protect data center operations.
What do you want customers to know about the MongoDB and Dell EMC relationship?
Tarik: We have been partnering for over a year on Dell EMC Flash and software-defined platforms, and the traction has been amazing. To fully realize the potential of MongoDB, customers need to modernize their infrastructure and transform their data center operations. At Dell EMC, our strategy is to help customers achieve this modernization by taking advantage of 4 key pillars: flash, software-defined, scale-out, and cloud enabled solutions. In addition, we are working on a data protection strategy for enterprise-grade backup and restore of MongoDB.
Can you further explain how this strategy relates directly to MongoDB?
Tarik: First off, MongoDB unlocks the ability for unparalleled performance at the database layer. This is where Flash is essential, meeting these performance requirements with compelling economics. Second, scale-out architectures, like MongoDB, have become a requirement because customers are generating orders of magnitude more data. Third, many organizations are implementing a software-defined data center. This model automates the deployment and configuration of IT services, resulting in agility and flexibility for managing data services. Finally, we want to ensure that the on-prem data center can leverage public cloud economics non-disruptively.
Tell us more about Dell EMC Data Protection solutions.
Philip: At Dell EMC, we believe data needs to be protected wherever it lives and no matter what happens. With this in mind, we start with the reality that data protection cannot be one size fits all in terms of service levels. Protection and availability should be based on data value and service levels that align to business objectives. Dell EMC looks at data protection as a continuum that spans over many protection tiers, including availability, replication, backup, snapshots, and archive; we offer products and solutions that span this continuum. With this, customers can tailor their data protection solution to best serve their specific needs.
What is Data Domain?
Philip: Dell EMC Data Domain systems deliver industry leading protection storage. Data Domain can reduce the amount of disk storage needed to retain and protect data by ratios of 10-30x and greater. It can scale up to 150 PB of logical capacity managed by a single system and with throughput up to 68 TB/hour. Data Domain systems make it possible to complete more backups in less time and provide faster, more reliable restores. The Data Domain Operating System (DD OS) is the intelligence behind Data Domain systems that makes them the industry's most reliable and cloud-enabled protection storage.
What is DD Boost?
Philip: DD Boost provides advanced integration between Data Domain systems and leading backup and enterprise applications. DD Boost distributes parts of the deduplication process to the backup server or application client to speed backups by up to 50 percent and reduce bandwidth requirements by up to 99 percent.
What is DD Boost file system plug-in?
Philip: DD Boost is now immediately available for new workloads that were previously unavailable by using a standard file system interface. BoostFS can be deployed in minutes, reducing backup windows and storage capacity.
Why did you choose to certify MongoDB with BoostFS?
Philip: Dell EMC is committed to providing customers a holistic data protection strategy that evolves with changes in the market. The adoption of NoSQL open source databases is one of those changes, and MongoDB is a market leader. This new partnership with the Data Domain ecosystem will better allow our customers to add MongoDB workloads to their existing infrastructure. BoostFS provides all the benefits and efficiencies of DD Boost, and does so in a simple, cost effective manner. With Dell EMC and MongoDB, customers are now given a valuable, synergistic solution built from two industry leaders.
What MongoDB configurations are supported with BoostFS?
Database: MongoDB v2.6, 3.0, 3.2, and 3.4 (future)
Storage Engines: mmapv1 and wired tiger
Backup Tools: Ops Manager 2.0.7, mongodump

Data Domain: All Platforms and DDVE
DD OS: v6.0
BoostFS: v1.0

For more information or to ask questions about BoostFS with MongoDB, please visit the Data Domain Community web site.
Where do you see this relationship going?
Philip: As the Product Manager for DD Boost and BoostFS, part of my responsibilities include running the partner ecosystem for DD Boost, so I have a lot experience in dealing with partners. When working in that capacity, it's easy to separate the good from the bad. Working with MongoDB has been great from the start – they have been responsive, flexible, and proactive in solving problems. Both firms are excited about the solution being offered today, and discussions have already started on extending this solution to cloud use cases.
What is the main use case for MongoDB with BoostFS?
Philip: One of the main use cases for BoostFS is to provide an enterprise backup and recovery solution with the option to replicate to a remote site. This secondary site can be used for disaster recovery or long term retention. The BoostFS plug-in resides on the MongoDB Ops Manager server as a Linux file system mount point, and the DD Boost protocols transports the data written to the file system, by Ops Manager, to/from the Data Domain. Then backups are replicated using MTree replication to a remote Data Domain system.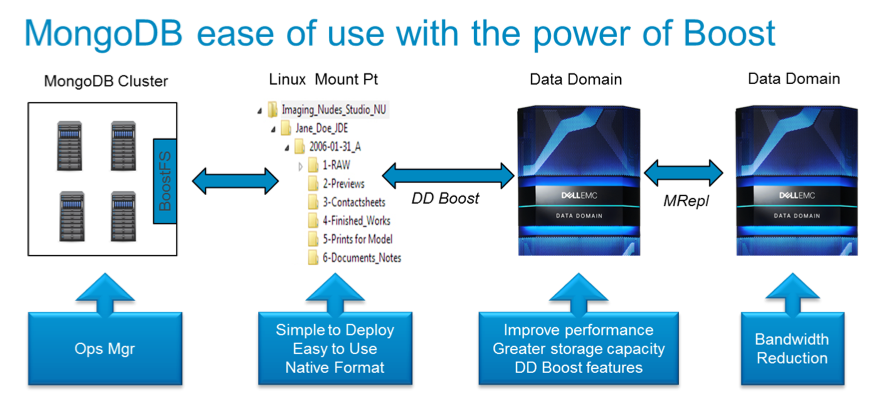 What are the benefits you'll get with BoostFS for MongoDB as opposed to Network File System (NFS)?
Philip: BoostFS offers advanced features while retaining the user experience you get with NFS, including load balancing and failover plus security. The chart below shows the benefits of BoostFS over NFS. Details on these features can be found on DellEMC.com or at the Data Domain User Community site.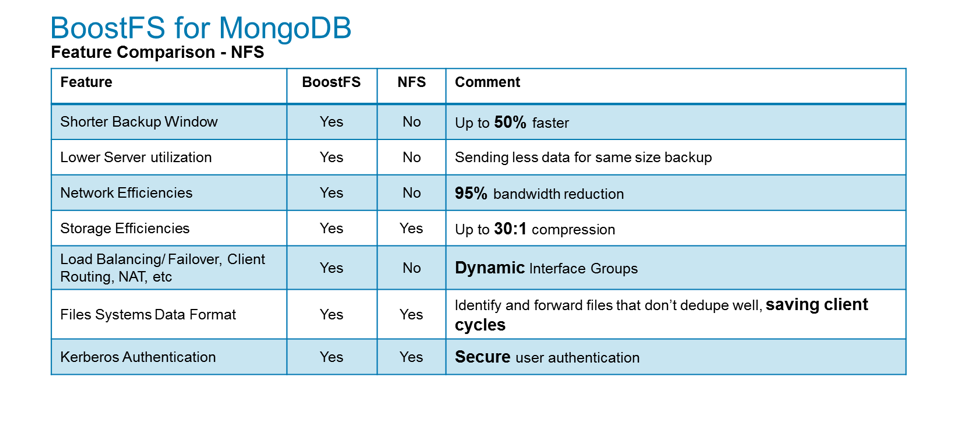 What exciting things can we look forward to next from MongoDB and Dell EMC?
Tarik: We have invested heavily in hyper-converged infrastructure. More and more customers are seeing the benefits in shifting their focus from maintaining infrastructure to innovating their application. We see tremendous potential in validating and eventually embedding MongoDB into our converged offerings.
Thank you for speaking with us Tarik and Philip. If you'd like to learn more:
Dell EMC and MongoDB Solutions Brief