Introducing the Next Generation of MongoDB Education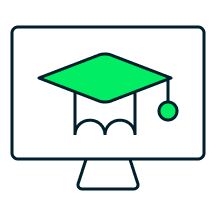 MongoDB University has always offered developers free, self-paced, on-demand ways to learn MongoDB and advance their careers. Now MongoDB has launched an enhanced University experience, with a rollout of new courses and features, and a seamless path to MongoDB certification to help take your skills and career to the next level.
"MongoDB has always been a developer-first company. But it's one thing to say that and support the current generation of developers and MongoDB users, it's another to play a larger role in molding the developers of the future," says Mark Porter, Chief Technology Officer, MongoDB. "Developers have gone from being a curiosity when I began my career to becoming a boardroom priority. If software and applications are the currency of the modern day economy, development teams are the market makers, and we want to support them on this journey."
Announced at our annual .local London developer conference, the new learning experience makes it easy to quickly pick up knowledge, develop a fundamental MongoDB skillset, and get certified. Beginning November 15, you can discover:
New courses that make it easy to learn how to use MongoDB in the context of your preferred programming language, including Python, C#, Java, and Node.JS

New discounts and incentives to support your growth. Now, any time you complete a new developer learning path, you will receive a 50% discount on the Associate Developer certification exam fee. And as always, all course content is free.

Easier accessibility to course videos - registration is no longer required! Those who do register gain access to hands-on labs, quizzes, and certifications, as well as the ability to track their progress.

Language Subtitles for all new courses. Chinese (Traditional and Simplified), Korean, Spanish, French, and Portuguese subtitles are now available.

Short form content on newer features. Try our new "Learning Bytes" to build knowledge on MongoDB in 20 minutes or less.

An enhanced certification experience with 24/7 exam access and robust study materials, including videos, study guides, and practice questions. Additionally, MongoDB University now offers course certificates and digital certification badges through Credly that strengthen your professional profiles on LinkedIn, and can be shared across Twitter and Facebook. Adding these badges will enhance your opportunities for roles that require MongoDB experience and enter you into the Credly talent pool, making you visible to recruiters and hiring managers looking for specific certifications.

Updated labs that provide guided, hands-on activities that allow you to practice what you've learned and see real-time results of your work.
Getting started with MongoDB University
Badges
Previous certifications continue to be valid and will now include digital badges, so be on the lookout for an email from our badging partner, Credly. You can then accept your MongoDB Certified badge and share it on LinkedIn, Twitter, and Facebook. When you accept, you will also be included in the Credly Talent Directory, which enables recruiters, hiring managers, and others to connect with you about opportunities based on the specific digital credentials you've earned.
In-progress learning
If you currently have in-progress courses with MongoDB University, those courses must be completed by December 1st in order to have your certificate transfer to the new University experience. If you don't complete a course by the deadline, that course will still be available in the new University, but your progress will not be transferred.
Ready to explore all the new possibilities? Get started with the next generation of MongoDB University today.