Intern Series: Self-taught Engineer Meets Atlas Core - Meet Ojima Abraham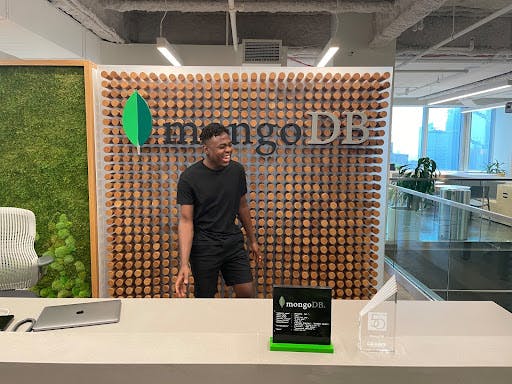 Ojima Abraham is a rising junior at Franklin & Marshall College who is working as a Software Engineering Intern at our New York City office. A self-taught developer, Ojima brings a unique perspective to his work on the Atlas Core team, where he's been grateful to find meaningful support, consequential work, and lasting friendships. In this interview, you'll hear about the people and culture that have made this program a perfect fit.
Alex Wilson: Hey Ojima! Nice to meet you. I heard that you're a self-taught engineer, which sounds so impressive. Can you tell me more about that?
Ojima Abraham: The process was both exciting and daunting; since I had no personal computer at that time, I had to use my phone to learn and practice coding, but it was exciting because I was fascinated by the idea of giving the computer some instructions and seeing the computer execute those instructions. Later on, I was able to ask my friends to use their computers for practice while I taught them how to write basic HTML and CSS code in return.
AW: Wow—that's fantastic! What ended up bringing you to MongoDB?
OA: I was just looking up summer internships and found MongoDB as one of the options. But I decided to intern at MongoDB because of my interview experience. One of the things that was emphasized the most during the interviews was how interns get to do work that makes it to production which I thought was very exciting; I didn't want to spend my Summer working on some "intern project" that was going to be thrown away at the end of the summer. I also really liked how supportive and positive all my interviewers and recruiters were.
AW: Absolutely. I've got to agree there, the Campus Recruiting team has some awesome people. What team have you been working with this summer?
OA: I am currently interning on the Atlas Core (Atlas 1, 2, 3) team. MongoDB Atlas is a database-as-a-service that enables you to build applications and scale faster. Atlas Core 1 has really enabled me to work on very interesting, challenging, and useful projects and that has been one of the highlights of my internship experience.
In the simplest way possible: I am currently working on a new feature that will allow users to add a new collection type that would automatically organize itself in buckets, making it easy to be queried. This project has really challenged me to get comfortable with being uncomfortable. I've been able to push myself to learn more about Online Archive and the components of our project.
AW: What's the most interesting thing you've learned this summer?
OA: Normally, I would want to list one thing that's related to developing my technical skills, but I feel like the most interesting thing I've learned this summer is how the different roles in a tech company work on a technical project from inception to production. I've been able to learn the roles that Product Managers, Engineers, Project Managers, Technical writers, and others play into making a product successful; I've been able to learn about the different areas of agreement and compromise and how strong communication is important among these different roles in a tech company.
AW: Have you gotten support along the way?
OA: My mentors have been the most supportive people I know! I've learned so much from them, gained so much support from them and feel like I have been able to make lifelong friends with my mentors. They are always available to answer any of my questions, have been very patient while helping me learn the things that I don't know, they have given me ownership of my work and have made sure I have never felt lost in this internship! The other interns on my team have been so supportive, providing me with great feedback and support. I genuinely feel like it was the perfect fit!
AW: I'm so glad! More broadly speaking, would you say this supportiveness is a central part of MongoDB's culture?
OA: I would describe the culture here at MongoDB as supportive, positive, uplifting, inclusive, and caring. Everyone is willing to help you, answer your questions, push you to become your best self while making you appreciate your own individual strengths and celebrate the diversity of thought and experience that everyone brings to the company.
AW: And have your self-taught roots influenced your experience here at all?
OA: ​​I feel like because of the initial challenge I faced while learning to code, it removed the fear of stepping into unfamiliar territory at MongoDB. I'm not afraid to pick up challenging and unfamiliar tasks/tickets because my mindset is always "I'll figure it out somehow, just like I figured it out when I first started learning to code."
AW: That's a fantastic mindset. Thanks so much for taking the time to share your experience, Ojima. I just have one final question: what's your favorite part about being part of the MongoDB community?
OA: This might sound cliché, but hands-down the people. It's just a positive environment where I have found my own people and have never felt out-of-place at all. Everyone seems happy to be here and that infectious happiness is spread around everyday.