Intern Series: Finding Community While Owning Production - Meet Carolina Obregon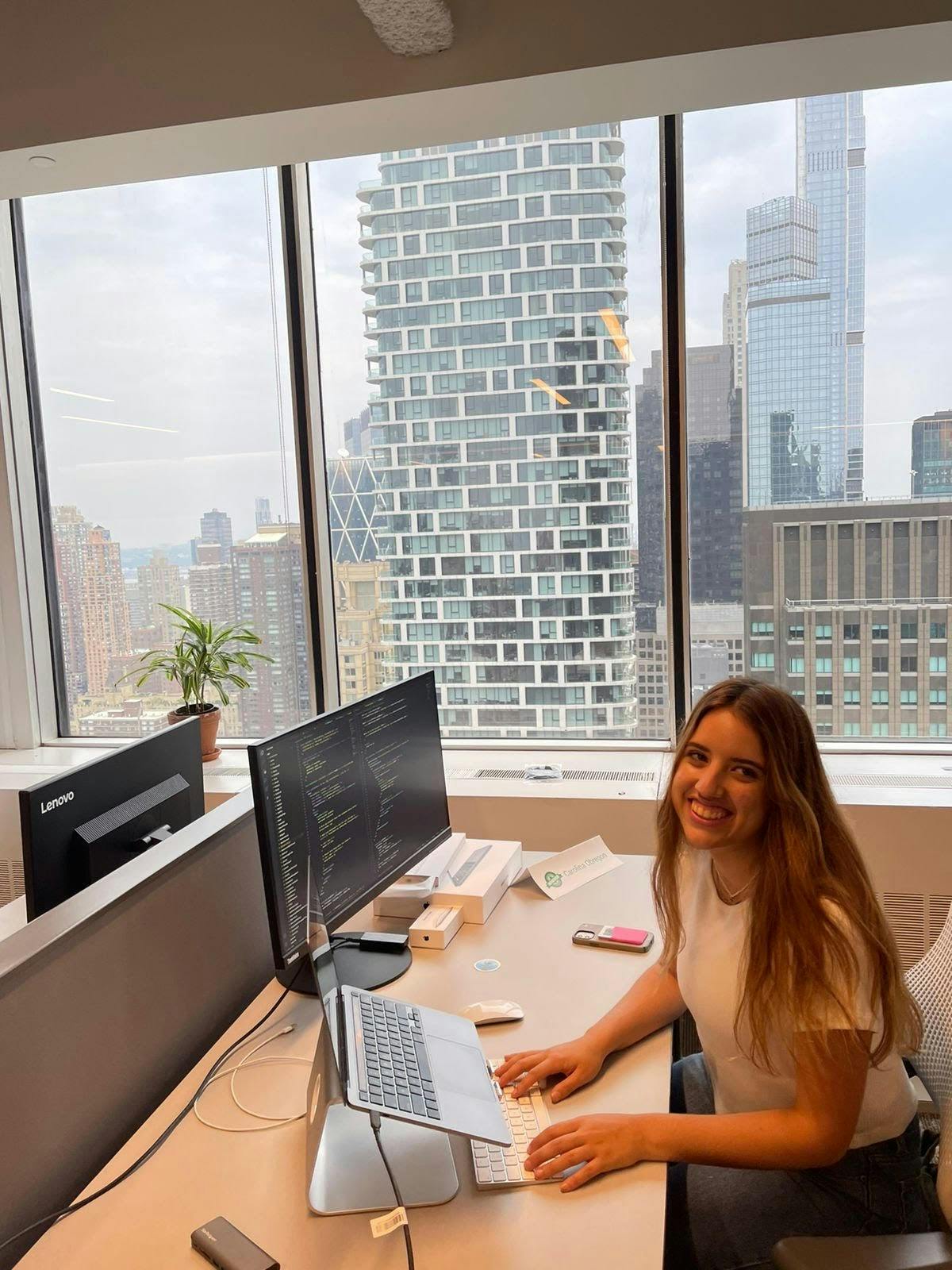 Carolina Obregon is a rising senior at Tecnológico de Monterrey in Mexico who is interning in our New York City office. She's spent the summer with the DevRel Platform/Education team building a quiz widget for the guides found on docs.MongoDB.com. Carolina has been excited to gain exposure to start-to-finish software development cycles, and in this interview, you'll get to hear how she has found meaningful support both in her professional circle and from her membership in MongoDB's Underrepresented Genders in Tech (UGT) Affinity Group.
Alex Wilson: Hey Caro, it's so good to see you! Can you tell me more about how you found out about MongoDB's internship program?
Carolina Obregon: I first applied to MongoDB's Women in Computer Science Summit all the way back in 2019 and while I wasn't accepted to attend that year, I kept receiving emails from MongoDB about blogs and future openings! When the next recruiting season came, I remembered MongoDB's openings and decided to take the chance and apply to the internship program! I was really happy to even get the first interview and even happier when I received the offer.
AW: Why did you choose MongoDB for your internship?
CO: As a software engineer, it's very important to me to be in a company that has an engineering centric culture so that I'm working with exciting technological challenges, a modern stack, and teammates that I can learn a lot from. Additionally, I really wanted to be part of a company that really cares about their employees, diversity, and company culture, and throughout the recruiting process and talking with past interns and current employees, I found that MongoDB really checked all the boxes I was looking for.
AW: That's great! What has your day-to-day looked like since you've been here?
CO: The team I work on is part of the greater Developer Relation Platform/Education organization, which is key for all our developers to learn MongoDB from basics to advanced topics required to run MongoDB in production systems. My team specifically is responsible for developing the systems which run MongoDB documentation's website (docs.mongodb.com). Documentation is crucial for MongoDB since the core of the product is essentially targeted at developers.
My intern project is creating a quiz widget that is going to be displayed throughout the docs.mongodb.com guides and will ask our users key multiple choice questions about the content that they're currently reading on. It's exciting that I've gotten to work on this project from start to finish and really experience how the software development cycle works in the industry, from working with the product manager to the product designer and receiving support from the other engineers on my team to make this all happen.
AW: Awesome! Anything particularly interesting that you've learned?
CO: I've gotten to work on a lot with Javascript's React. I had done previous personal projects using this framework, but it has been very interesting getting to work on it in a real life production environment and receiving guidance and feedback from my teammates on how to keep improving my skills.
AW: It must be so gratifying to do work with such tangible results and have clear growth opportunities—and that sounds fascinating. Has your team given you much support in this work?
CO: They were really good at ramping me up and making me feel comfortable with the work and tech stack from the beginning. Giving me small tasks to start off and after I was comfortable enough, assigning me my own project to develop on my own. The whole team has been super attentive and helpful throughout the whole summer, and making sure that I'm constantly challenged, learning, and getting help in my work!
AW: Fantastic! Is there anywhere else you've been finding support?
CO: Getting the chance to be part of UGT (Underrepresented Genders in Tech) was a very fulfilling and meaningful experience. The Campus Team assigned a UGT mentor for each of us and prepared many events throughout the summer that ranged from talking about our personal experiences to fun game nights. I really enjoyed getting to know other interns and full timers who are also part of the affinity group. In the short time that I spent here, I've found MongoDB to be very supportive of underrepresented genders. Taking in the fact that women make up 46% of the intern class, I always felt that I was in a very comfortable and open work environment everytime I came to the office.
AW: It's been so nice to hear that you've had such a meaningful summer. There's one last thing I'd love to hear: you talked about the company culture as part of the reason why you came to MongoDB—what have you found out about the culture since you've been here?
CO: One of MongoDB's core values is Build Together, and I think that the company culture really stems from that. It is a very collaborative, friendly work environment where your teammates and co-workers legitimately care about your wellbeing both personally and professionally.