Intern Series: Creating a New Brand Design For Campus Recruiting - Meet Erin Rose-Innes
Erin Rose-Innes is a rising senior at the College of Charleston majoring in Marketing with minors in Computer Science and Psychology. This summer, Erin worked at MongoDB as a Brand Design Intern, something outside of her major but wildly within her interests. (The College of Charleston doesn't offer a Graphic Design major, and except for a single class, everything Erin has learned has been self-taught.)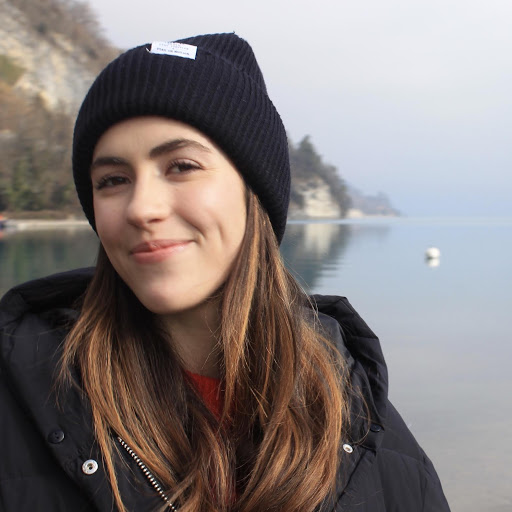 Josh Fayer: How did you get into graphic design?
Erin Rose-Innes: A couple of years ago, I started thinking about how I could combine my various passions to build a career. I was always interested in art and marketing, and knew there had to be a way to tie the two together. I took a graphic design course at school and fell in love with it—after that, it was mostly just messing around on my own. The more I learned and played around with graphic design, the more I liked it. Eventually, I gained more professional experience through freelance opportunities and internships with local companies near my hometown.
Working with design was great at stimulating the creative side of my brain, but I felt like something was missing. I decided to choose computer science as my minor because it really helped me use the more technical side of my brain. I find that if I'm using one side too much and neglecting the other, I get worn out, and can't enjoy my work as much.
This summer, I knew I wanted to pursue an internship that would enable me to tap into both my creative and technical sides and further build out my skill set. That's one of the main reasons why MongoDB was the perfect fit for me.
JF: Can you describe a project you worked on over the summer?
ER: I was given the responsibility of creating a new brand for MongoDB's Campus Recruiting Team. I developed a department specific image that embodies the core branding elements of the company, while extending the team's individual identity in a way that is reflective of their distinct target audience and the unique value that they bring to MongoDB. Working closely with the campus recruiting team, this pattern can now be used in various digital assets and event materials throughout this upcoming campus recruiting season.

JF: What did the development process look like?
ER: Our Campus Recruiting team represents MongoDB in some very visually competitive environments like career fairs, conferences, and social media. This made it important to create a strong and unique visual identity that was unique, but also identifiable as MongoDB.
I chose the primary colors for my designs based on our corporate color palette. I selected the three core MongoDB greens in order to align with our corporate brand image, while also introducing a new secondary color - mint - to differentiate the design from other departments and add more dimension to my illustrations.
I drew inspiration from some of our existing web icons so that the designs would tie in smoothly to our website, and made sure to incorporate many programming and tech specific elements in order to embody the interests of engineers and computer science majors.
JF: How has your team helped you grow throughout the course of your project?
ER: My university does not have a design program, so the majority of my skills and prior experiences have been self-taught. At MongoDB, the team taught me industry specific knowledge that I have not been formally taught before. I learned so much through collaborating with my team members and gaining insight from more experienced designer.
JF: What is life as an intern at MongoDB like?
ER: MongoDB provides a bunch of opportunities for people to get to know each other outside of work! Events like roller skating and ice cream socials are really great ways to meet interesting people from all different departments within the company. This is especially important to me as a non-technical intern at a tech company. I felt very included, and made friends I never would have met otherwise! There are several events every week for the interns that help us explore New York City and spend time getting to know each other. Interning at MongoDB is an incredible experience. Between my work projects and intern events, I always had something to look forward to each week.
Interested in pursuing an internship at MongoDB? We have several open roles and would love for you to grow your career with us!