Hydrus Helps Companies Improve ESG Performance
More organizations are embracing workforce diversity, environmental sustainability, and responsible corporate governance in an effort to improve their Environmental, Social, and Governance (ESG) performance. As investors increasingly favor ESG in their portfolios, organizations are under greater pressure to capture, store, and verify ESG metrics. San Francisco-based startup, Hydrus, is helping companies make ESG data more usable and actionable.
The platform
Hydrus, a MongoDB for Startups program member, is a software platform that enables enterprises to collect, store, report, and act on their environmental, social, and governance data. ESG data includes things like:
How a company safeguards the environment
Its energy consumption and how it impacts climate change
How it manages relationships with employees, suppliers, and customers
Details about the company's leadership, executive pay, audits, and internal controls
The Hydrus platform enables organizations to collect, store, and audit diversity and environmental data, and run analytics and machine learning against that data.
Hydrus offers users a first-rate UI/UX so that even non-technical users can leverage the platform. With the auditing capabilities, organizations can ensure the provenance and integrity of ESG data over time. Other solutions don't allow users to go back in time and determine who made changes to the data, why they made them, what earlier versions of the data looked like, and what time the changes were made. Hydrus gives users complete visibility into these activities.
The tech stack
MongoDB Atlas was the preferred database for Hydrus because of the flexibility of the data model. George Lee, founder and CEO of Hydrus, says the traditional SQL database model was too limiting for the startup's needs. MongoDB's document model eliminated the need to create tables or enforce restrictions of data fields. With MongoDB, they could simply add fields without undertaking any major schema changes.
Hydrus also tapped MongoDB for access to engineers and technical resources. This enabled the company to architect its platform for all of the different types of sustainability data that exist. MongoDB technical experts helped Hydrus model data for future scalability and flexibility so it could add data fields when the need arises.
On top of Atlas and MongoDB technical support, Hydrus leans heavily on MongoDB Charts, a data visualization tool for creating, sharing, and embedding visualizations from MongoDB Atlas. Charts enables Hydrus to derive insights from ESG data, giving its Fortune 200 clients better visibility into their operational efficiency. Charts uses a drag-and-drop interface that makes it easy to build charts and answer questions about ESG data.
A Hydrus customer using MongoDB Charts was better able to understand the impact of their footprint from a greenhouse gas perspective and a resource usage perspective. Another customer detected a 30x increase in refrigerant usage in one of its facilities. The visual analytics generated with MongoDB Charts enabled the company to make changes to improve their ESG performance.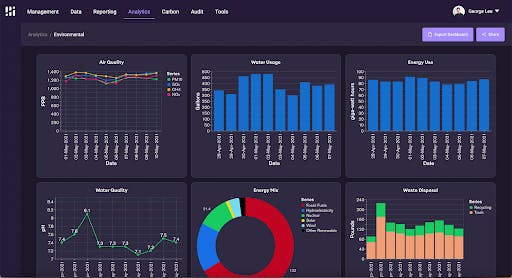 "MongoDB Charts enables our customers to directly report their sustainability data, customize the charts, and better tell the sustainability story in a visual format," Lee says. "It's way better than the traditional format where you have data, tables, and spreadsheets everywhere."
The roadmap
Hydrus seeks to take the hassle out of managing a sustainable business by streamlining data collection, reporting, and auditing processes. Its platform is designed to eliminate manual tasks for sustainability managers so they can focus on decarbonization, resource usage optimization, and being able to hit their sustainability goals. Hydrus accelerates these activities by helping companies model their sustainability data around science-based targets so they can better decarbonize and meet other ESG goals.
If you're interested in learning more about how to help your organization become more sustainable, decarbonize, and succeed in your sustainability journey, visit the Hydrus website.
Are you part of a startup and interested in joining the MongoDB for Startups program? Apply now.
For more startup content, check out our wrap-up of the 2022 year in startups.