How Three College Friends Became MongoDB Coworkers
Siya Raj Purohit, Chaitanya Varanasi, and Sohail Shaikh first met while attending the University of Texas at Austin (UT Austin) as undergraduate students. Five years after graduating, they found themselves brought together again — this time by MongoDB. I recently sat down with Siya, Chai, and Sohail to talk about this friendship that has been sustained through divergent career paths and continues to grow alongside their roles at MongoDB.

Jackie Denner: Tell us about your story leading up to MongoDB. How did the three of you meet and begin to grow your careers?
Siya Raj Purohit: I studied electrical and computer engineering at UT Austin from 2010 to 2013. Although Chai, Sohail, and I weren't in the same year, we became friends from hanging out and working through the rigorous engineering curriculum in the same study lounge. Outside of the engineering building, Austin's tech scene was exploding; some of my favorite memories with Chai and Sohail are going to tech events together. We met Stephen Wolfram (from WolframAlpha), briefly hung out with Mark Cuban, and crashed many SXSW tech events.
Since graduating from college, I've lived in four states and worked across startups and venture capital firms. At MongoDB, I help provide founders with the resources they need to push the tech industry forward.
Chaitanya (Chai) Varanasi: I am an electrical and computer engineering major from UT Austin, class of 2015 (Hook 'Em!). Electrical and computer engineering is a fairly small cohort of students who all share a building and sit in the same hall for introductory classes. It is always said that the hottest fires forge the strongest metal. In our situation, we all had to go through grueling labs and coding assignments that would keep us up all night and unite us toward a common goal of passing that class.
What started as collaboration on class materials very quickly transitioned into late-night frozen yogurt hangouts, playing Catan, and discovering Austin together. Sohail and I used to travel across the country for various hackathons, which was how we started our careers in software engineering. One of my favorite memories is of Siya taking us to the meetup of a lifetime at the Capital Factory, a startup incubator in Austin; we even got a picture with Stephen Wolfram!
After graduating, I joined a large financial institution in Dallas as a software engineer, and then I began my presales journey in the performance space. After realizing the potential of data and understanding the value companies gain from data insights, I joined MongoDB.
Sohail Shaikh: My journey in tech began when I was 12 years old and built my first computer. Since then, I have always been fascinated with new technologies and learning more about them. I was a math major at UT Austin, class of 2015. I actually can't remember the first time I met Siya or Chai, because it seems as if I have known them forever, and I felt an immediate bond with both of them from the start. I have vivid memories of our times at UT together: attending hackathons, collaborating on ideas, and spending a lot of time talking about the future and how we could bring change.
In the five-and-a-half years since graduating, I have worked in Palo Alto and Dallas — at a startup, at AppDynamics, and now at MongoDB. I'm excited to be reunited with Chai and Siya; we are all very passionate about making a positive impact in this world, and we are all doing that today at MongoDB!
JD: What is your role at MongoDB?
SRP: I'm helping the next generation of developers to build great companies. There is so much great talent coming out of universities and startup accelerator programs, and MongoDB for Startups works with developers to ensure they have the right products and services to transform their ideas into innovative companies. More than 1,500 companies have #BuiltWithMongoDB so far — and we're super excited to continue growing the ecosystem.
CV: I am a Senior Solutions Architect. My day-to-day job consists of being a technical partner to our rock-star sales team and performing proof of concepts with our customers to continually grow our MongoDB presence.
SS: I am a Solutions Architect at MongoDB for the South Central region. My day-to-day job is working with customers in the presales organization and showcasing why MongoDB is so amazing.
JD: How did you maintain your friendship after college?
SRP: After college, I lost touch with Chai and Sohail for a couple of years. I moved to Silicon Valley, and although we periodically caught up through mutual friends, we didn't really reconnect until we all joined MongoDB. I joined a few weeks before Chai (mostly to be part of his welcoming crew) and was ecstatic when Sohail told us he was joining MongoDB too. Now, we have a private Slack channel (named after one of our favorite Bollywood films) where we talk about our jobs and lives and also share cute memes and gifs.
CV: Sohail and I both lived in Dallas and worked on the same team at a previous company. We have done multiple trips together and spent way too many nights eating sushi and Whataburger! Siya and I lost touch for a little because of the distance, but we were able to make up for lost time after joining MongoDB.
SS: I am horrible at maintaining relationships, but Chai and Siya keep me in check (it's just the type of people they truly are). I would meet Chai once a year on a group trip, and one day I called him to learn more about his new role at AppDynamics; he didn't hesitate to refer me in. Next thing I knew, I was working with him on his team.
Two-and-a-half years later, Chai decided to move to MongoDB, and I couldn't resist. After working with Chai, I am now convinced I talk to him more than his wife does. Siya and I reconnected during the pandemic through a socially distanced meetup at a park while I was visiting San Francisco. Now that we both work for MongoDB, our friendship has picked up right where we left off.
JD: All three of you joined MongoDB during the COVID-19 pandemic. How was the remote onboarding experience?
SRP: Honestly, I was sort of nervous about joining remotely. I had left a company where I had really strong relationships with my coworkers, and it was daunting to imagine building new connections while being entirely remote. During my interview process, I asked for advice on how to best onboard. I was recommended the book The First 90 Days, which provided a great framework and onboarding roadmap.
The MongoDB onboarding week itself was awesome — I met many people across the company, joined a few employee affinity groups (MongoDB Women is my favorite!), and learned about the lives of my coworkers beyond work — I even virtually met some of their babies and pets! I'm really excited to spend time with coworkers in person once it's safer to do so.
CV: I had a phenomenal experience with onboarding. Everyone at MongoDB has been nothing short of helpful. This was the first time in my life that I got to meet an entire executive team in a small group setting within the first month of joining the company. Each MongoDB executive hosts a coffee chat once a quarter, which is a great way to get to know them more personally. That kind of exposure is unparalleled, and it truly showed me how a great culture was supported from both bottom up and top down.
SS: Onboarding at MongoDB is the best I have ever seen! Training and role clarity have been phenomenal, even in a remote setting. The material is organized and easy to grasp, and I don't feel as if I have been left to figure everything out on my own. The team is extremely helpful in answering all of my questions and helping me grow. In Sales, there is also boot camp, which is divided up into two parts for my role. Boot camp lasted for a month to avoid any Zoom fatigue (given that we are all virtual), which also gave us more time to work on our assignments and properly learn the lay of the land.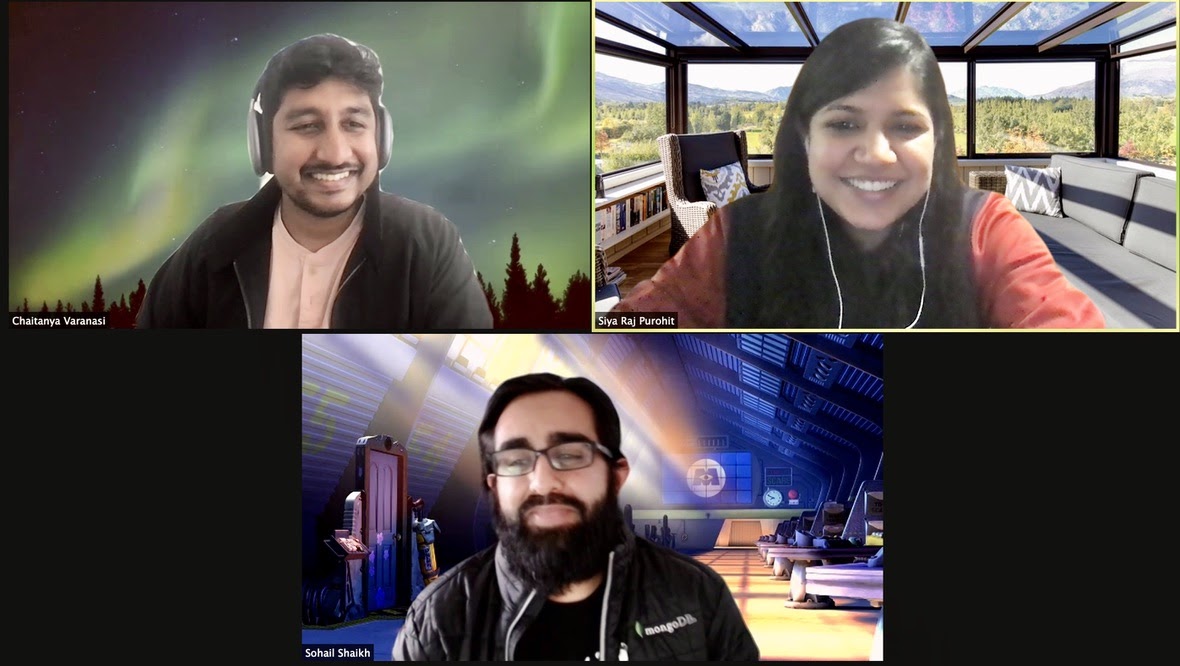 JD: What are you most excited about?
SRP: I am so excited about Chai moving to NYC so we can work out of the same office when it reopens. I've already mapped out the top 10 bubble tea shops in NYC for us to visit.
CV: I am ready to explore New York with Siya and have future MongoDB lunches together. Sohail and I are ready to tackle our Sales Kickoff and have fun when we return to normal situations after the pandemic. We are all career-driven individuals, and I am excited to see how we can uplift each other as a family.
SS: I am most excited to be learning about the database space and contributing to growing the business. I am also super excited to see where MongoDB goes in the future. As one of the world's fastest-growing databases, it feels as if we are on a rocket ship.
JD: What advice would you give to others who are looking for a new role?
SRP: Recruiting is always hard. Find unique ways to showcase why you're a fit for a certain role or company — passion is seen and rewarded.
CV: Always keep your connections and networks alive. Keep interacting with the folks you care about. I am nothing without my work friends and my work family. MongoDB is on a rocket ship right now, and you will absolutely love working here.
SS: Don't be afraid to take a risk in your careers, and put in an application to MongoDB today! We love working with talented, hard-working folks, and the grass is truly green on this side!