How Thoughtful Illustration Is Setting MongoDB Apart: Meet Champa Lo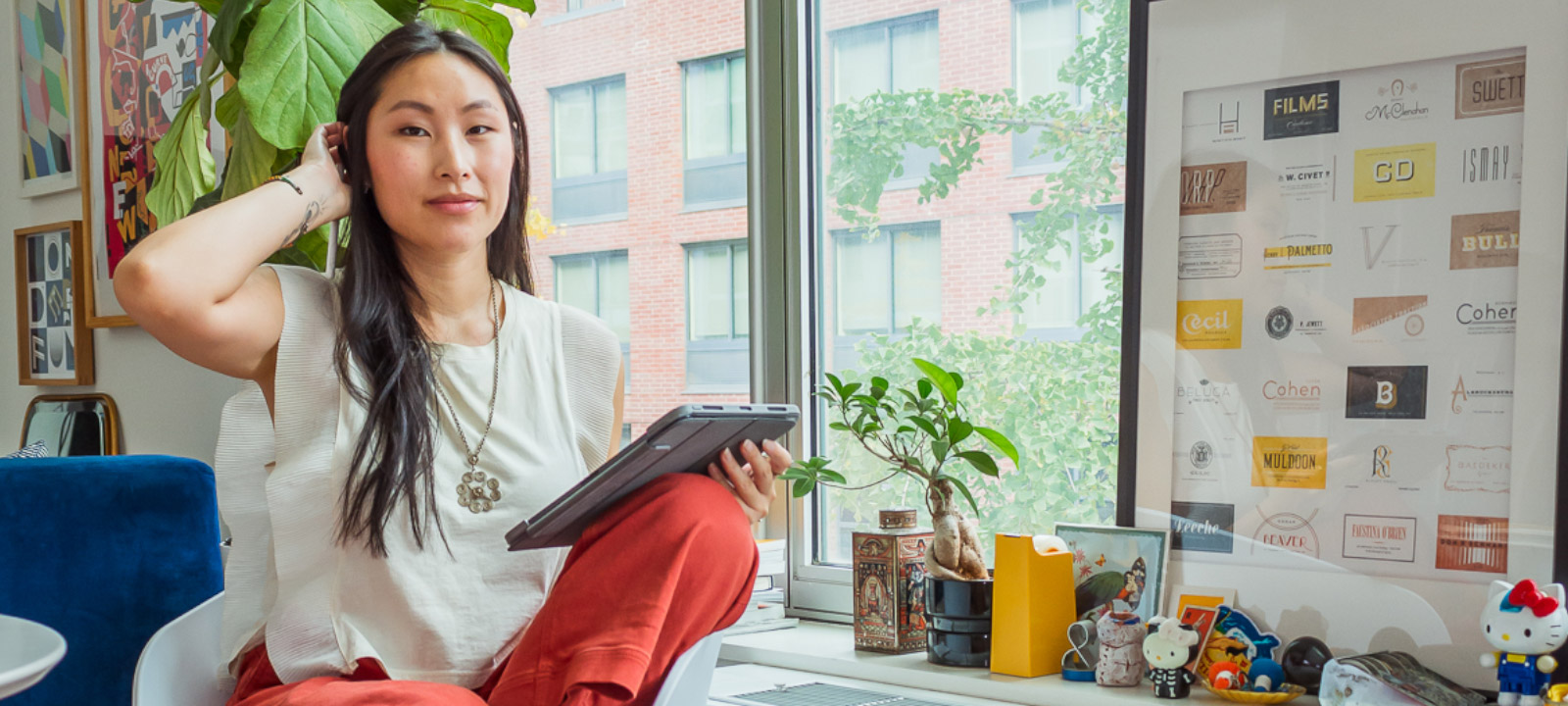 I sat down with Champa Lo, Technical Illustrator based in our New York headquarters, to learn more about her role as the first full-time illustrator at MongoDB. We talked about her passion for illustration, what she does, and how she's shaping the future of design within the company.
Ashley Perez: Welcome to the team! Can you tell me about your role?
Champa Lo: Sure. I joined MongoDB right before COVID-19 hit. I came into the headquarters twice for an interview but ended up being one of the first new hires who had to start at home, on top of being the first person in a brand-new role.
Technical Illustration is a first for MongoDB. The company has never had an illustrator on hand. Although we have talented designers who can illustrate within a design, that's not their main focus: the overall design is. The difference with my role is that I work specifically on illustration. I also work to define the illustration style and help create a style guide.
The most important aspect of my job is building good relationships with people throughout the company. I need to understand their goals and what they're looking for so I can tell a purely visual story.
AP: How did you get into illustration?
CL: I guess you can say I fell into it (at least the illustration part). I always knew I wanted to be a graphic designer early on. I was a mentee for a graphic designer in high school and absolutely fell in love with the profession. I even have a cute clipping from my senior year high school paper where I talk about my dreams of being a designer.

After high school, I studied graphic design at the University of Colorado Denver. When I was in the design program, I always found ways to incorporate fun illustrations in my projects. A year after I graduated, I moved to New York City because there were more jobs in design there and landed a job that allowed me to put my illustrating skills to good use.
My first job was working with an incredible Creative Director at a small startup who built an amazing brand using illustrations to convey the company's goals and messages. This was a part-time job: for four hours a day, I would concentrate on illustrating bespoke email banners for marketing prompts the team created that morning. With her guidance, I saw my illustration skills grow. It showed me the possibility of being a full-time illustrator.
Here's an example of a design I did while I was there:

I love to illustrate (especially this type of illustration) because I'm a designer by trade, and the core of designing is to problem-solve. Illustration is no different. As a Technical Illustrator, I simplify and visualize complicated theories and concepts. Also, it's fun! If I'm not having fun while illustrating, I'm very unmotivated. My creativity relies on avoiding boredom.
I'm always working to improve my artistic skills. I'm a lover of learning, so I subscribe to tutorial sites such as Skillshare; follow artists on YouTube who share tutorials; and subscribe to a monthly art box that sends paints, brushes, pens, and so forth so I can try new mediums.

AP: How do you make your illustrations purposeful, engaging, and memorable?
CL: Having thoughtful conversations about the subject matter is how you get good designs and illustration. If you don't understand the subject to the best of your ability, how can you be successful at visualizing it?
In school, I was taught to always research your subject matter and not design blindly. Putting in the extra work makes a huge difference. That's also why 1:1 meetings are so important. It's a time for me to learn, and it's also a creative process for the stakeholders, because they find creative ways to help me understand.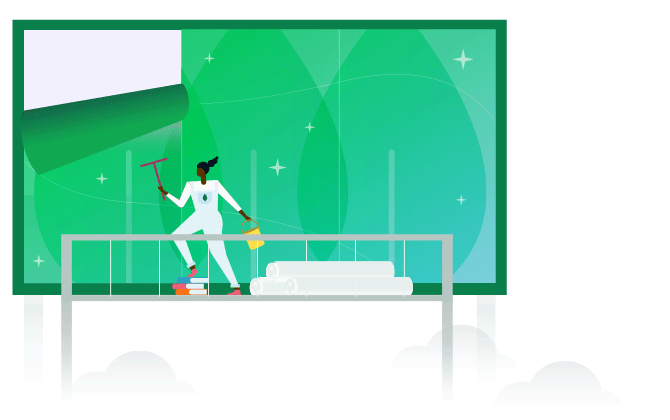 We want to understand the goal. For example, should the illustration be futuristic or nostalgic? Recently, we had a conversation about cars and how we wanted to present them for a project. We decided to design the cars as compact or electric to show MongoDB as forward thinking and environmentally conscious, because those are the kinds of people we want to hire and work with.
Or take COVID-19, for instance. The pandemic has changed the way people illustrate office environments. No longer do you have teams sitting in conference rooms. Instead, you have people working at home. So, I had to think of things to illustrate such as a sofa, home desk, and desk lamp. Maybe even a dog or a child. We thought about how we could incorporate this into the Zoom interface. Before, we didn't have to think about it. Now, Zoom can be a way to add some personality to everyone's digital space as we work remotely.
That's what I'm here for. To have those conversations and get deeper behind the meaning of everything we create.
AP: Let's talk a little more about your role at MongoDB. What projects do you work on?
CL: I'm part of the Visual Design Team, which supports the whole company. It's fun to meet and talk to many different people at MongoDB. It gives us a lot of diversity in the projects we work on.
Along with illustrations, I also work on diagrams and small animations. Projects include campaigns, web illustrations, and events.
Because I've joined the team, we're able to have fuller discussions about illustration. Our designers work in a fast-paced world, but my process is slower because I make more bespoke illustrations and have to talk to people to understand the technicalities so we can go beyond generic illustrations. I have to be more thoughtful of what we're presenting to the audience. Even though by having these conversations I slow down how quickly the designers move, I'm striving to build stronger relationships on the team through this practice.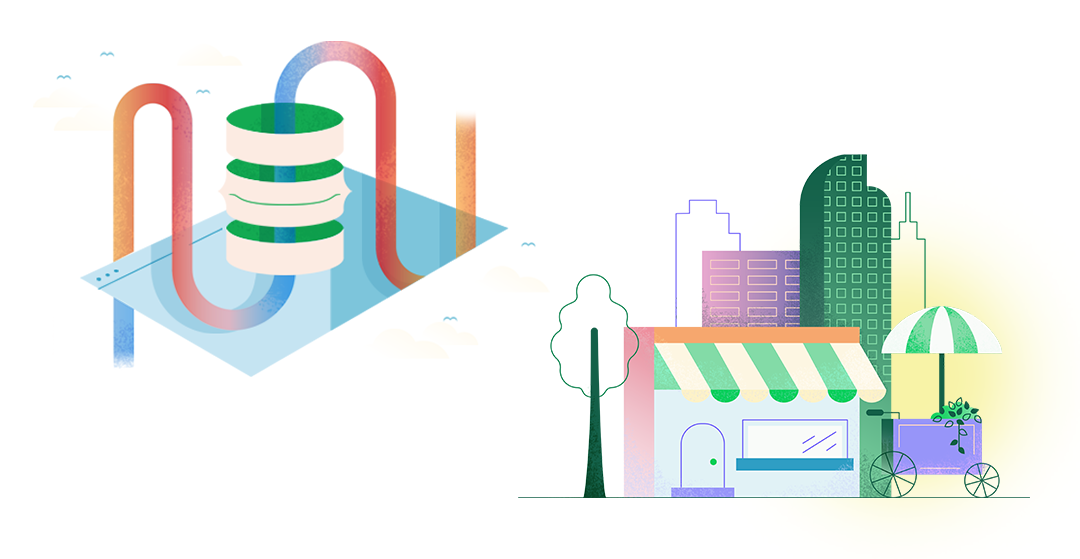 I have found that by showing and explaining my illustration process and inviting them into it, people seem to trust me more. For example, I always share my sketches with stakeholders before digitizing the work. My sketches aren't perfect, but by showing them not-so-perfect work, we can build the relationship and align on ideas. My hope is that the sketches allow people to see I'm open for collaboration and conversation.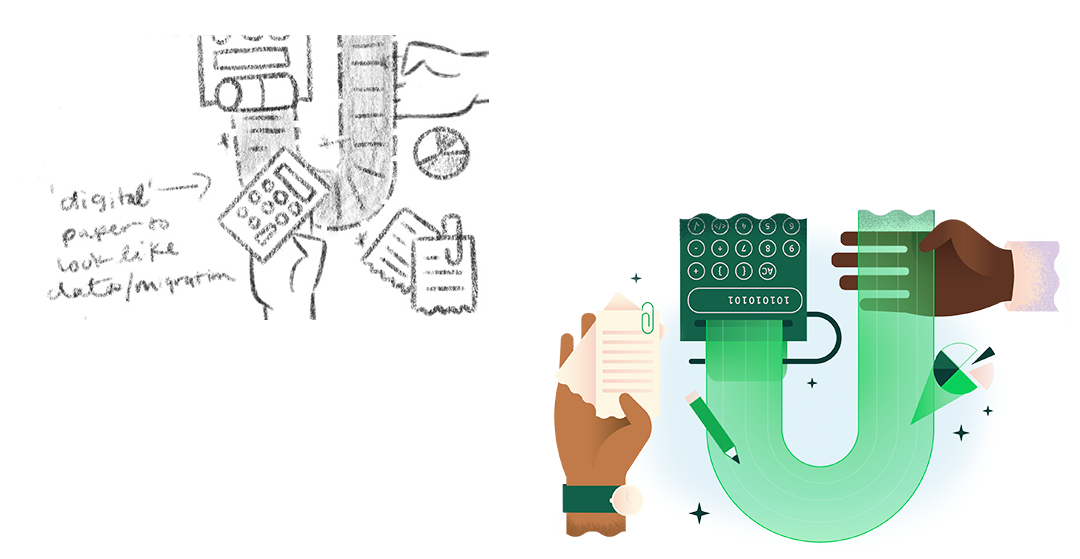 AP: How does having these conversations help your design?
CL: Great question! Working with such a diversity of people and projects helps me gain an immense amount of knowledge and insight. Past conversations and concerns help inform my design decisions. I'm almost like a liaison for all these different departments, and it's nice to transfer the information so we're all aligned.
For example, I've been working closely with Product Marketing on diagrams, and soon I'll be working on diagrams with a member from the Docs team, too. Each team has taken its own paths for diagrams, but I would love to eventually create a holistic style that works for all teams beyond just these two.
I believe having a good process to follow leads to meaningful and engaging illustrations. However, it's important to find balance. You can't overengineer it, because that can easily turn unproductive and formulaic. I always want an open dialogue and strive to show there's room to collaborate. The process we have created has been successful so far, but it's not set in stone. Further along we can add another step, or we may find certain things aren't needed.
AP: What's your creative vision for MongoDB?
CL: My goal for illustration is that we are inclusive, diverse, and thoughtful. What I've seen here is a global company full of people who are very passionate and kind. As designers, we have the power to show who and what MongoDB is. For me, that's showing off who we are. One of our company's values is "Own What You Do." I think it's such an important one for designers, because we should always add our personal experiences and perspectives to our work and translate the rest of the company's perspectives and experiences, too.
For the team, my goal is to continue streamlining a process so we're transparent and support a collaborative spirit when it comes to working with us.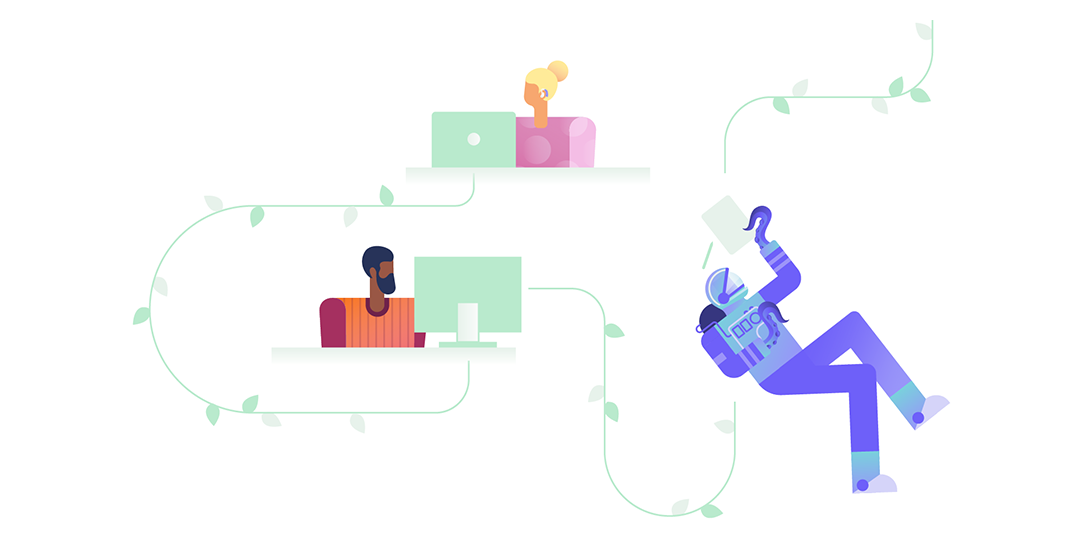 My goal is to create a unified vision between our two audiences: developer and enterprise customers. My hope is the illustrations bring joy and delight, and that our audiences see MongoDB has a personality. A really effective illustration system is memorable, and our research is starting to show that our audiences are beginning to remember our visuals. This is a huge brand lift, creating a personal experience versus the cold one people may experience with other tech brands.