How a MongoDB Internship Helped Sahi Muthyala Grow Her Skills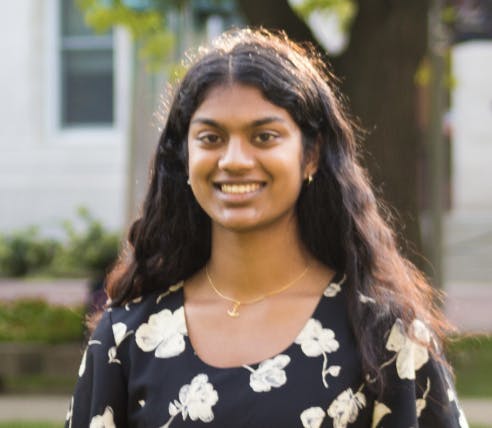 Sahi Muthyala is a rising senior at the University of Illinois Urbana-Champaign who is working as a Product Management intern at MongoDB's New York City office. Sahi is currently interning with the Atlas Growth team, where she is not only helping the Product Management department but also learning about product research, product culture, and connection.
In this interview, you'll read about the learning experience and culture at MongoDB that has made this program the perfect internship for Sahi.
Sezzy Rodriguez: Thanks so much for speaking with me today, Sahi. The first thing I'm curious about is how did you hear about MongoDB's internship?
Sahi Muthyala: I first heard about MongoDB's internship through one of my college mentors during my freshman year at University of Illinois Urbana-Champaign. She had just interned on the Node Driver team and had a lot of great things to say about the program. The amount of ownership, collaboration, and mentorship that she got during the course of her internship, and the way she spoke of MongoDB's culture really stood out to me.
SR: That was such a great connection. Why, besides what you heard from your mentor, did you decide to intern at MongoDB?
SM: I decided to intern at MongoDB for a few reasons:
First, the impact that MongoDB has excites me. The beauty of our end users being developers is that our technology supports them in building applications that can impact billions of people. There is no limit to the impact that MongoDB can have, and that gets me really pumped about the problems that I'm going to be working on.
Second, staying technical was top-of-mind, and I knew that I would definitely be able to do that at MongoDB, regardless of the team that I was going to be on because of how our end users are developers and how technical our products are.
Third, I wanted to work at a mid-sized company, because I wanted to learn from what MongoDB does well but also have the room to contribute outside the scope of my projects/role and move quickly without too much process.
SR: I'm so glad you noticed all of these things even before interning. Speaking of, tell me about the team you are interning on.
SM: I am interning on the Atlas Growth team, which was formed in 2018 to focus on growing the self-serve usage of Atlas by helping users become successful to reach their full potential on Atlas. The team is very cross-functional in that product, design, research, marketing, analytics, and engineering are all working together to brainstorm the experiments that we can run and how to iterate based on results. We also work with other teams like Atlas Search and App Services (formerly Realm), which is exciting.
The Atlas Growth team is currently split into three squads — Activation & Engagement, Monetization, and Product-led Acquisition. I am working on Activation & Engagement this summer to reduce the time for new users to experience value in the product and increase their engagement with the platform.
My favorite parts of the team are how quantitative and qualitative we are, and how we think about the big picture. We do lots of A/B testing and iterating and are very data-driven, but also talk to customers to understand their needs and broader user/development journey.
In terms of big-picture thinking, our team is thinking about how we can improve an existing product that has a lot of cross-over with other products and subproducts, so we have to zoom out and think more long-term. Even if we are running smaller A/B tests, they are often tied to validating a certain larger vision or figuring out how we should go about doing something. There is also no such thing as a failed experiment because we gain insight from every experiment that we run, which helps us inform future decisions.
SR: What a great team to have. What is your favorite project you have worked on so far?
SM: Definitely product research on local development. Initially, I was focused on product research for Atlas CLI, which we announced at MongoDB World, but the scope of the project expanded to local development. The focus of my user interviews leaned toward understanding users' app building and local development journey so we could understand how Atlas CLI can fit into that journey, and when and where we can surface it to users. Learning more about what different users are trying to accomplish and how they leverage our different tools was really insightful. Other major parts of this research project included a competitive analysis, user survey, and data analysis, which I used to gather findings, identify parallels, and come up with experiments that we can run.
SR: That's so interesting. What is the culture like at MongoDB?
SM: The culture at MongoDB is incredible. People not only care deeply about what they are working on, but also want to know all about what you are working on and how they can support you. I care a lot about being somewhere where people are passionate about what we are building, and I see that at MongoDB.
Furthermore, I love the product culture at MongoDB. We are user-obsessed. Developers will not start using our products just because of all of the cool things we say about what we have to offer. They care about whether our products and tools address their needs. It is pretty simple, but looking deeper, developers are challenging users: Not all developers are the same, and they tend to have pretty different use cases and even use different combinations of our products. These differences really push us to think about the whole developer journey and work cross-team to make sure that our users truly have the best experience.
SR: What is your favorite part about interning at MongoDB?
SM: The people. I am so glad that I have been around such incredible people who really care about what we do and who make sure that I am well-supported and have a fruitful experience. This internship has enabled me to learn so much from them and grow in ways that I did not even foresee before my internship started — from energy management to how to frame meetings/presentations with different audiences, and so much more. I am glad that I have found such a great fit in my final college internship. I feel like I have already grown so much as a young professional and have a strong idea of what I want to focus on next in my full-time role.
SR: I'm so happy you've had a great internship experience at MongoDB. How has your team/mentors helped you as an intern this summer?
SM: My mentor Richa has made me feel incredibly connected, valued, and supported as an intern. Even with her busy schedule, she made the time to meet with me for at least 30 minutes every day for the first few weeks of the internship to answer the many questions that I had, and she always encouraged me to explore whatever sparked my interest. Even though I have only been here for a few weeks, I have been pleasantly surprised to see how seriously my feedback is taken, whether it is around a product or process. The Atlas Growth team has made me feel just like another member of the team, and some PMs on other teams have taken it upon themselves to make me feel included and help me as much as they can.
SR: Anything else you'd like to share?
SM: Please feel free to reach out to me on LinkedIn if you have any questions about my experience. You can also follow me on Medium, where I write about product management among other topics.