Employee Benefits That Make a Difference at MongoDB
MongoDB employees are making a huge impact on their careers and the future of technology. But career development and doing work that matters aren't the only perks of joining our team. Our goal is to provide employees with the resources they need to thrive in all aspects of their lives.
From mental health resources to fertility assistance and an amazing parental leave policy, we want to support the emotional, physical, financial, and family wellbeing of all employees. Our formal wellness program, MongoDB Bloom, aims to fulfill these four pillars of wellbeing by ensuring MongoDB employees are aware of the resources available to them and providing monthly educational sessions on topics ranging from managing stress to nutrition.
Read on to learn about some of the benefits we offer our employees.
Family support programs
We know that the journey to parenthood and raising a family is important to many of our employees, so we're proud to offer a generous parental leave policy and back-up care program. New parents receive up to 20 weeks of fully paid parental leave, as well as an additional four weeks of fully paid flexible work arrangements to assist with returning to work. Parental leave eligibility varies depending on location and tenure with the company.
We offer additional programs for expecting parents as well, like parenting workshops and Cleo, which provides employees with fully personalized and customizable counseling on their journey to parenthood. Our employees in the U.S. and Canada can also take advantage of 15 days of subsidized backup care per year. This initiative is meant to make it easier for employees to obtain care for their loved ones should their regular care fall through.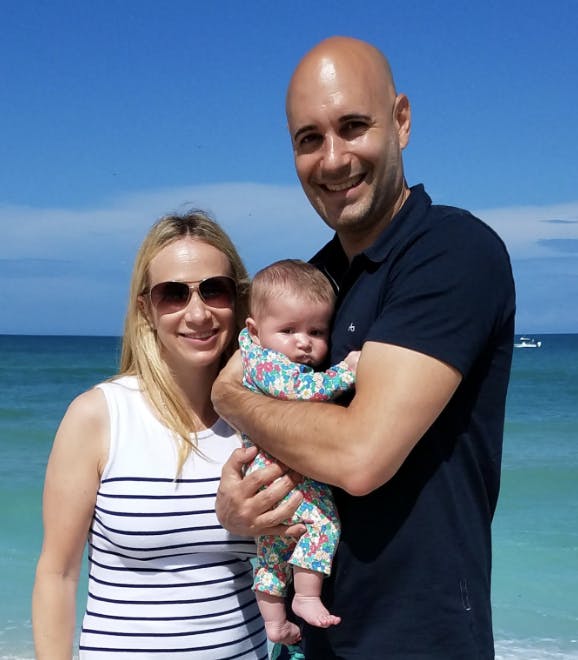 Lead Software Engineer Andrew Giannotti was one of the first employees at MongoDB to utilize our revamped parental leave policy. This policy made a huge impact on his life as a new father.
"Having this time off allowed my wife to recover and recuperate from the birth while I took on a lot of the parenting duties like getting up in the middle of the night and changing diapers. This time really allowed me to bond with our daughter. A lot of my male friends had to return back to work after only one or two weeks, and they hardly ever got to be involved in the fun moments when their babies were awake. I really got to experience all of the wonderful moments with my daughter and spend time with her. While on paternity leave, I was continuously told by my team not to come back to work too early and to stay off of my work email. I am so grateful that this part of my life was completely stress-free so I could be present with my family."
Fertility and adoption assistance
We also understand that starting a family can be challenging, and we care about doing what we can to support our employees on their journey.
MongoDB partners with Carrot globally to provide customized fertility benefits. This includes but is not limited to IVF treatments, genetic testing, egg freezing, donor eggs, donor sperm surrogacy, and adoption, regardless of whether an employee has an infertility diagnosis or not. It also includes coverage for all employees regardless of age, sexual orientation, gender identity, or marital status.
All global MongoDB employees can sign up for Carrot, connect with a fertility expert, and find a clinic that is best for them. These services support our employees wherever they are on their journey, whether they want to have an exploratory conversation, or are in the middle of receiving treatments.
Want to know the best part? For employees who undergo a fertility treatment or adoption, MongoDB reimburses 90% of covered costs, up to a $50,000 USD lifetime maximum for U.S. employees and the equivalent of $20,000 USD lifetime maximum for non-U.S. employees (this amount varies in different countries). To protect the privacy of our employees, Carrot handles the entire transaction.
Global mobility
Did you know that MongoDB has 40+ offices around the world? Each MongoDB employee has the opportunity to expand their personal and professional experiences and may have the option to relocate to another office depending on their role. We care about our employees' individual growth and provide them with opportunities to apply for open roles within the company on other teams. Some of these internal transfers may also lead to relocations.
Allison Easton joined MongoDB as an intern in our New York City headquarters. After her internship, she was offered a role on our Sharding team in Barcelona.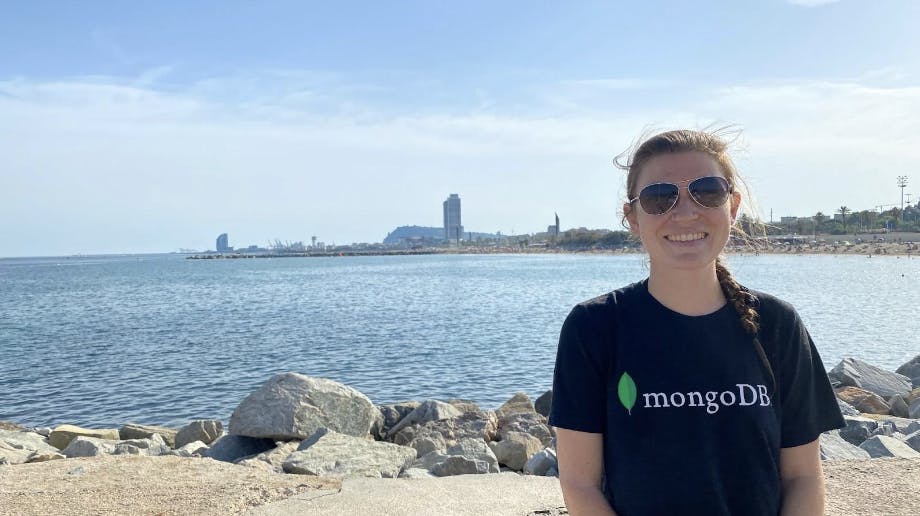 "I knew that I wanted to go somewhere different after my internship, but didn't really know where or what role. I talked to my recruiter and we discussed the possibility of me joining the newly started Sharding team in Barcelona. After interning for the Sharding team in NYC remotely, I was offered a position in Barcelona after graduation.
Moving to Barcelona was pretty scary. I had never been to Spain before, and I didn't (and still don't really) speak any Spanish. MongoDB helped me get my visa and connected me with a local employee who suggested places to stay in the city while looking for apartments. Everyone has been super welcoming, and it's been a great experience living in such a different place."
Flexible PTO
Our flexible paid time off (PTO) ethos is applied globally to ensure employees take time to refresh, relax, and unwind. This policy is based on mutual trust and communication between every employee and their manager. It's important for all employees to achieve a positive work-life blend, regardless of their role, team, or tenure.
Charles Merrill, Sr. Technical Services Engineer, was able to take advantage of our flexible PTO policy to participate in the Joberg2c bike race in South Africa.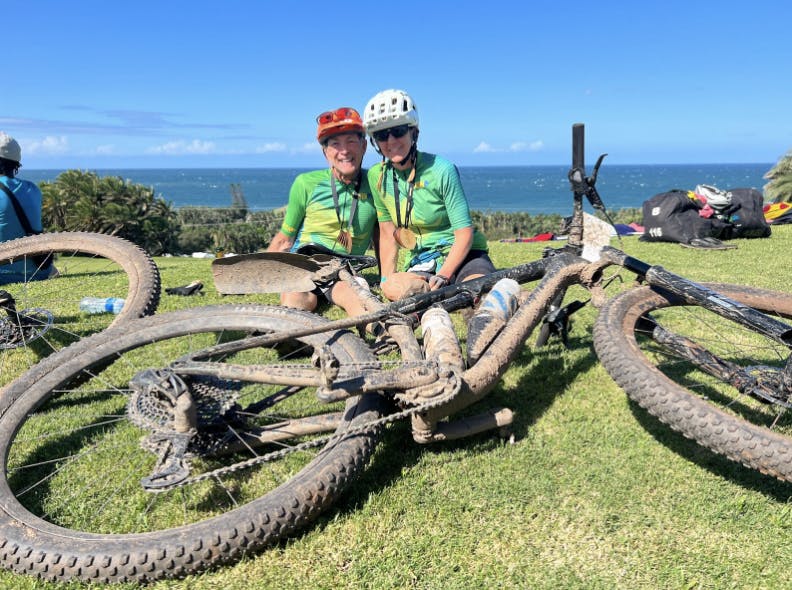 "My wife and I participated in the 2022 Joberg2c race, a 9-day, 950 kilometer mountain bike stage race from Johannesburg to the Indian Ocean. As part of our participation we raised funds for Project Thorn, a non-profit focused on implementing K9 anti-poaching units in Northern KwaZulu-Natal, South Africa. With MongoDB's support and encouragement we were able to make a difference."
Talia Ayala-Feliciangeli, UX Researcher, used her flexible PTO time to visit family.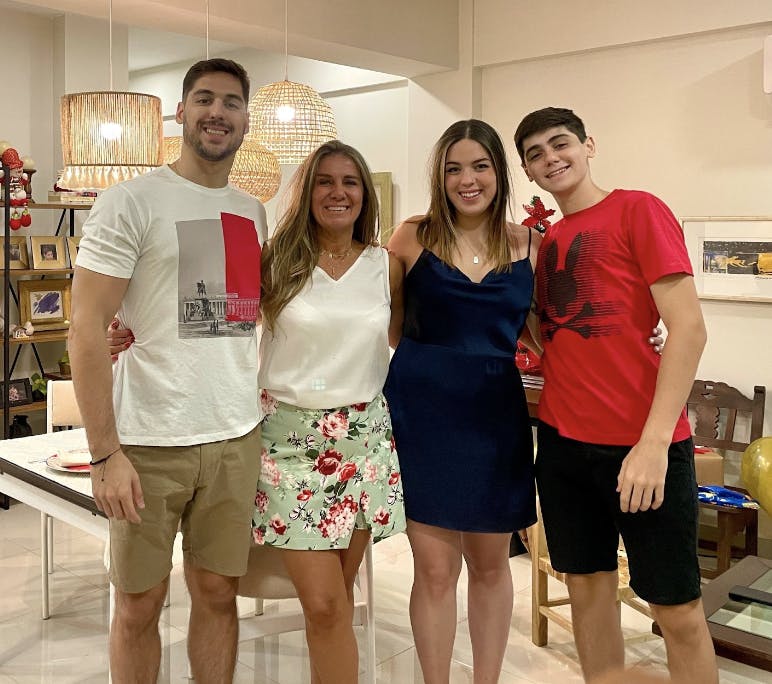 "I planned a trip home to Paraguay to visit my family for the first time in two years. My manager encouraged me to make use of our PTO and spend three weeks fully present with my family. I'm super grateful our PTO policy allowed me to make up for so much lost time!"
Employee resource groups
It's important for us to embody our core company values, especially when it comes to "Embrace the Power of Differences." MongoDB's employee resource groups and inclusion programs support our larger commitment to a diverse and inclusive community.
Employee resource groups (ERGs) provide a valued, solutions-oriented safe space for employees to ideate, mentor, and connect with one another through a common interest or identity. If you're an employee and you have an idea for a new group, we will provide you with the tools and support needed to build it. If you'd like to develop your leadership skills, joining an employee resource group leadership team can be a great way to explore different responsibilities and ways to have a company-wide impact. Our ERGs provide a space for individuals of the same or similar race/ethnicity, gender, sexual orientation, disability, veteran status, or interest to come together and build community.
Learn more about our ERGs and Diversity & Inclusion at MongoDB
Transgender benefits and support
To further our commitment to building an inclusive culture and embracing the power of differences, we provide support to U.S. employees who are on their individual journeys to embracing their whole, true selves. MongoDB has expanded the available services related to WPATH (World Professional Association for Transgender Health) for employees who are enrolled in one of our Cigna plans and who identify as Transgender, Gender Nonconforming, or Transsexual. Benefits include services and procedures not covered under standard medical insurance policies.
As part of the 5% of Cigna's client companies that offer expanded WPATH Standards of Care services, we provide important resources for our Transgender employees. These benefits consist of: health plan coverage for medically necessary treatments, which may include hormone therapy, gender affirming surgery, blepharoplasty, and voice therapy; advocates to help employees navigate health care plans; resources to educate family and friends on LGBTQ+ topics; and support to help employees during their transition journey.
Mental health
Employee mental health and wellbeing is another core focus at MongoDB. It's important for us to help break the stigma around mental health and provide our employees with the support they need, especially at work. We are dedicated to providing our employees with valuable tools to face all of life's challenges and offer mental health programs that provide confidential assistance from qualified professionals.
With our regional Employee Assistance Programs (EAPs), employees are provided guidance for any personal issues that they may be facing. The EAP provides a 24/7 hotline, three free sessions with local mental health counselors, and more.
We also offer Spring Health in the U.S., which is a mental health service that uses technology and top providers to offer patients a more personalized approach to care. Employees interested in using Spring receive a mental health screening and support from a specialist when they need them, and more.
To help employees be more mindful and meditate, we offer Headspace to global employees for free. Headspace provides hundreds of themed meditation sessions on everything from sleep to focus to reducing stress.
In an effort to strengthen the MongoDB community and help employees support each other, MongoDB has established a Mental Health First Aiders team. Our team is made up of MongoDB employees from all different teams and all different locations, to support our global workforce. Mental Health First Aid (MHFA) is internationally recognised training, designed to teach people how to spot the signs and symptoms of mental ill health, guide individuals experiencing mental ill health to appropriate resources, and provide help on a first aid basis.
Wellness events and programs
We strive to offer an inclusive and holistic approach to health and wellbeing for our employees, their families, and the MongoDB community.
We offer virtual yoga and bootcamp classes, meditation & mindfulness sessions, nutrition sessions, fitness challenges, and more. Throughout the year, MongoDB hosts wellness workshops for all of our employees around the world that cover topics like how to stay healthy while traveling, the ins and outs of holistic health, and how to improve your sleep habits.
In addition to our wellness programs, we also empower our employees to give back to their communities by covering the transactional fees when employees donate to charities through Bright Funds, where employees can choose from over 300,000 vetted charities!
All of these benefits are in addition to our comprehensive medical, dental, and vision health care packages, as well as our Employee Stock Purchase Program. The above list of benefits is not intended to be a comprehensive description of each benefit or plan nor does it represent a guarantee of benefits to any employee. MongoDB reserves the right to cancel, revise, or otherwise change benefits provided at any time.
Interested in learning more about Life At MongoDB? Check out our careers site to find out more about our teams, values, and open roles.