Building on Atlas to Accelerate Sales Efficiency at MongoDB
When it comes to customers and prospects, there is no such thing as having too much data. But it can sometimes seem that way. With so much data on prospects, the challenge is in sorting through it to truly understand which have the highest potential.
As a result, companies are often left with disparate and disorganized spreadsheets, making Salesforce that much harder to use. Soon, sales leaders find themselves preoccupied with simply trying to access and understand data, rather than implementing strategy.
MongoDB's own sales organization found itself in such a position in the summer of 2020 and decided that there had to be a better way to utilize the customer data they received from vendor Scalestack.
"There were hundreds of customized documents that each needed to be updated from multiple different data sources — repeatedly," said Matt Highland, account strategy manager at MongoDB. "The documents would often become outdated very quickly. We needed a current view of the data."
First, the sales team conducted an in-house study of the process its sales leaders use to analyze accounts and territories in order to gain an idea of all the data points and workflows that optimize account allocation. Next, sales leaders evaluated vendor solutions, but couldn't find any tool or service that met every need.
From there, the decision was made to build a tool internally using MongoDB's own engineering resources and technology. With an assist from its Product Design department, the sales leaders translated the requirements and previous tools used into high-fidelity wireframes for the engineering team.
The solution, named Argos, is a web application built on top of MongoDB Atlas. Launched in early 2021, it is now being used by more than 600 people in MongoDB's sales teams. Argos helps employees to understand the potential spend for each of their accounts, which in turn informs account and territory planning at the regional, team, and rep level.
"The main benefits have been transparency and access to timely data," Highland said. "The relevant data is in one place, and it's up to date. Argos has also helped with speed, and how quickly we can get a new sales rep going, how quickly we can grow our teams, and how quickly we can adjust our strategy when situations change. It also gives us more clarity about how equitable the territories are."
MongoDB's sales group is now far more agile in building and adjusting territories because it became far easier to find those key data points about customers and prospects. Additionally, it freed up analytical bandwidth for more strategic projects that were previously spent wrangling data.
Thanks to its intuitive document data model, MongoDB Atlas made it easy for developers to build Argos — as well as for sales teams to spin up and use the web application. In addition, the flexibility of the document model made it easy for teams to alter the application as its requirements evolved.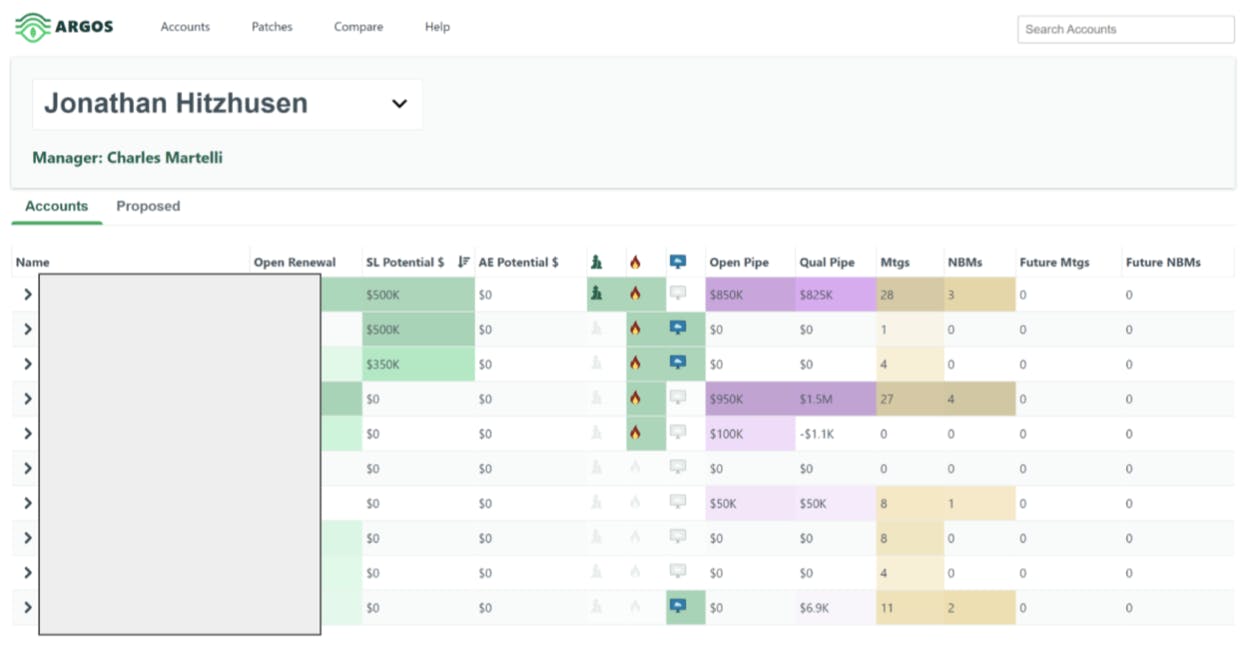 Because of how simple Atlas is to use, engineers could focus solely on the Argos implementation and not worry about database deployment, availability, or performance. The analytics available in Atlas also made fine-tuning queries and indexes straightforward, which translated into a better user experience through faster application performance. And the flexibility of the document data model made ingesting data quick and easy, which decreased the time between the start of the Argos project to its working prototype.
"With Argos, the sales team has a shared single view of their accounts with the decision making data points available and up to date," Highland said.
Next, Highland said, is to explore expanding Argos to other teams inside MongoDB to continue to streamline its go-to-market efforts.
The MongoDB SalesOps team is hiring! Check out our job postings to see if you would be a good fit!