Best of Breed: commercetools on Building Composable Commerce on MongoDB
What's behind the power of a modern, data-centric, composable commerce platform that solves all of the consumer demands in an increasingly AI-driven e-commerce landscape?
Just ask Michael Scholz, the VP of Product and Customer Marketing at commercetools. commercetools Composable Commerce is an industry-leading commerce platform used by leading household brands like Express Inc., Danone, Ulta Beauty, Salling Group, John Lewis and partners, and KMart, all of which are building best-in-class omnichannel shopping experiences.
Modern, data-centric composable commerce
Mr. Scholz took to the stage at MongoDB.local NYC to talk about how MongoDB is powering commercetools' Composable Commerce platform, and how together MongoDB and commercetools are addressing the challenge of growth in the retail industry.
"Global retail sales are about to grow 56% to just a little over 8 trillion. The real question here is: Are the retailers ready for what's ahead of them?" he asked.
It's a difficult question for many of those in the retail industry to answer, whether they're retailers building e-commerce stacks in-house, or software companies trying to build a packaged e-commerce solution. Here's a deep insight into how commercetools have succeeded and why they chose MongoDB as their trusted advisor.
commercetools started building on MongoDB from day one, as they saw the database and the Atlas fully managed service as a best-of-breed option. They're not in the business of managing data, they want to focus on value add features for their product and company:
"We don't want to be the custodians of data, we want to focus on what is important to us, which is commerce," Mr. Scholz said in New York.
MongoDB Atlas allows commercetools to do that by offering a fully managed database as a service that is cloud-native SaaS, reducing the operational effort for commercetools of managing thousands of databases and providing a highly available and scalable service. Elastic scale is incredibly important in retail with peak events like Black Friday, Christmas, and unplanned traffic surges, for example, should an influencer spark demand for a product unexpectedly. The shared ability of MongoDB Atlas and commercetools' ability to grow or shrink automatically in response to demand is key, making the system highly performant at scale and also cost-effective during low traffic.
commercetools are considered thought leaders in the software industry due to their thinking and sharing of architectural best practices. commercetools CEO Dirk Hoerig coined the term Headless, and commercetools are the co-founders of the MACH Alliance, which champions microservice, API-first, cloud-native SaaS, and headless architecture practices. MongoDB is an enabler member of the MACH Alliance; its global multi-cloud database enables the building of a MACH compliance architecture and promotes a lean and agile development environment.
"APIs can and will forever be able to be consumed by any consumer device, front-end, or other application," according to Dirk Hoerig, the CEO and co-founder of commercetools.
In this setup, it's vital that the backend is fast and dependable. With MongoDB Atlas' high availability architecture, commercetools was capable of offering the unbelievable SLA of 100% uptime for three years in a row in Europe!
"Nobody is going to believe that, but if we're looking at that and looking at our GCP instance, we have 100% uptime for GCP and for MongoDB. In the U.S., we had 99.99%, and it's really just a rounding error," Mr. Scholz said at MongoDB.local NYC. "It's all about high performance and low latency."
Dive further into the talk to learn about composable commerce, and why MongoDB is a match made in heaven for commercetools to unlock more growth possibilities and deliver outstanding shopping experiences while innovating fast to be ready for what's next.
What makes commercetools & MongoDB the perfect match
MongoDB powers commercetools to deliver innovation at speed. Through this partnership and with MongoDB's robust technology, commercetools has built truly composable technology for businesses that require unlimited flexibility and infinite scale at lower costs.
"We've realized the only constant is change," Mr. Scholz said. "We don't really know what's about to happen. It's all about how we can future-proof our software, and how we accomplish that with MongoDB."
Mr. Scholz illustrates why MongoDB is the perfect match for modern data-centric commerce in four key areas: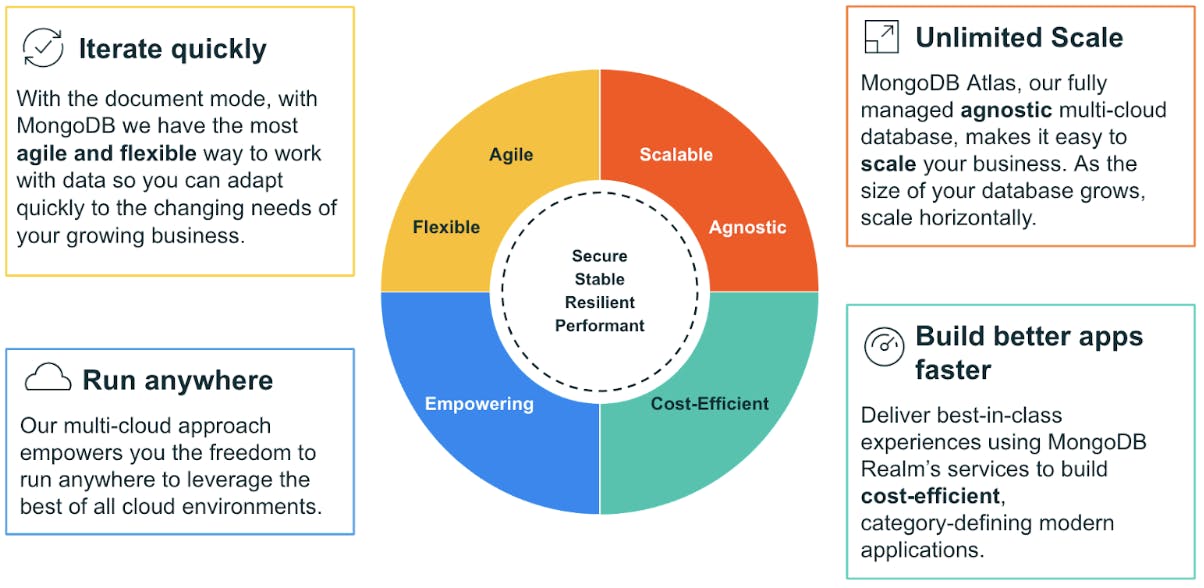 Embracing the future: Integrating AI into retail
Looking forward to the future of retail tech, the challenge of integrating AI into applications is fast approaching. Mr. Scholz highlighted how the ability to clean, migrate, and enrich data through the use of MongoDB's flexible document model helps them to build out customized AI experiences for customers. These are the building blocks from which we can begin to talk about AI-powered analytics, supply chain, personalization, and more.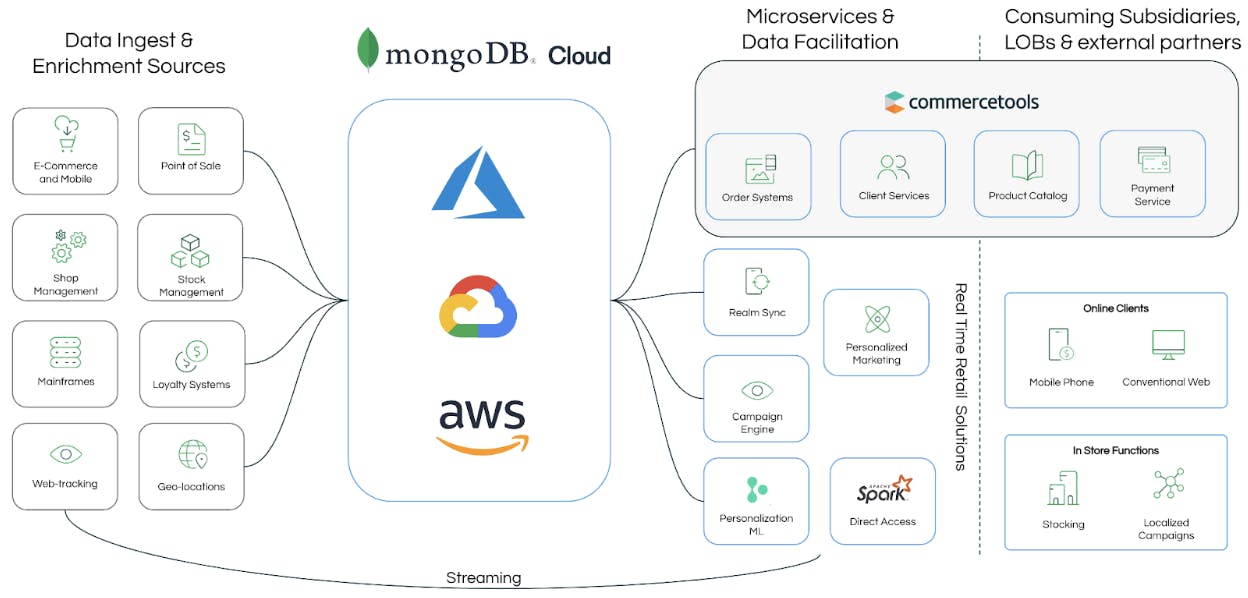 commercetools have been using machine learning for a long time, one of the key use cases is to help retailers easily create categories and product types automatically when they import product data sets into MongoDB. With GenAI top of mind, commercetools are looking for the first set of use cases like speeding up promotion creation- leveraging models on top of their data in MongoDB to auto-generate content for brand portfolios that matches their tone and audience.
A perfect partnership
This modern, data-centric, composable commerce platform is the basis of huge success for commercetools and its customers. Through innovative architecture and quick iteration of new features, commercetools has become the leading technology in its field. Their customer's results include inspiring numbers such as: + 35% average order value, + 2X Sales Order Increase, + 40% Increase in Cross-Selling, and + 100ms response time.