Against the Odds - How I Built a Successful Career in Tech Sales
I sat down with Stephanie Samuels, Regional Sales Director, to speak about how she began her career in tech sales, how some of her life challenges became the best things that could have happened to her, and what it's like to work on the sales team at MongoDB. She also discusses what her experience has been like as an African American woman in tech sales.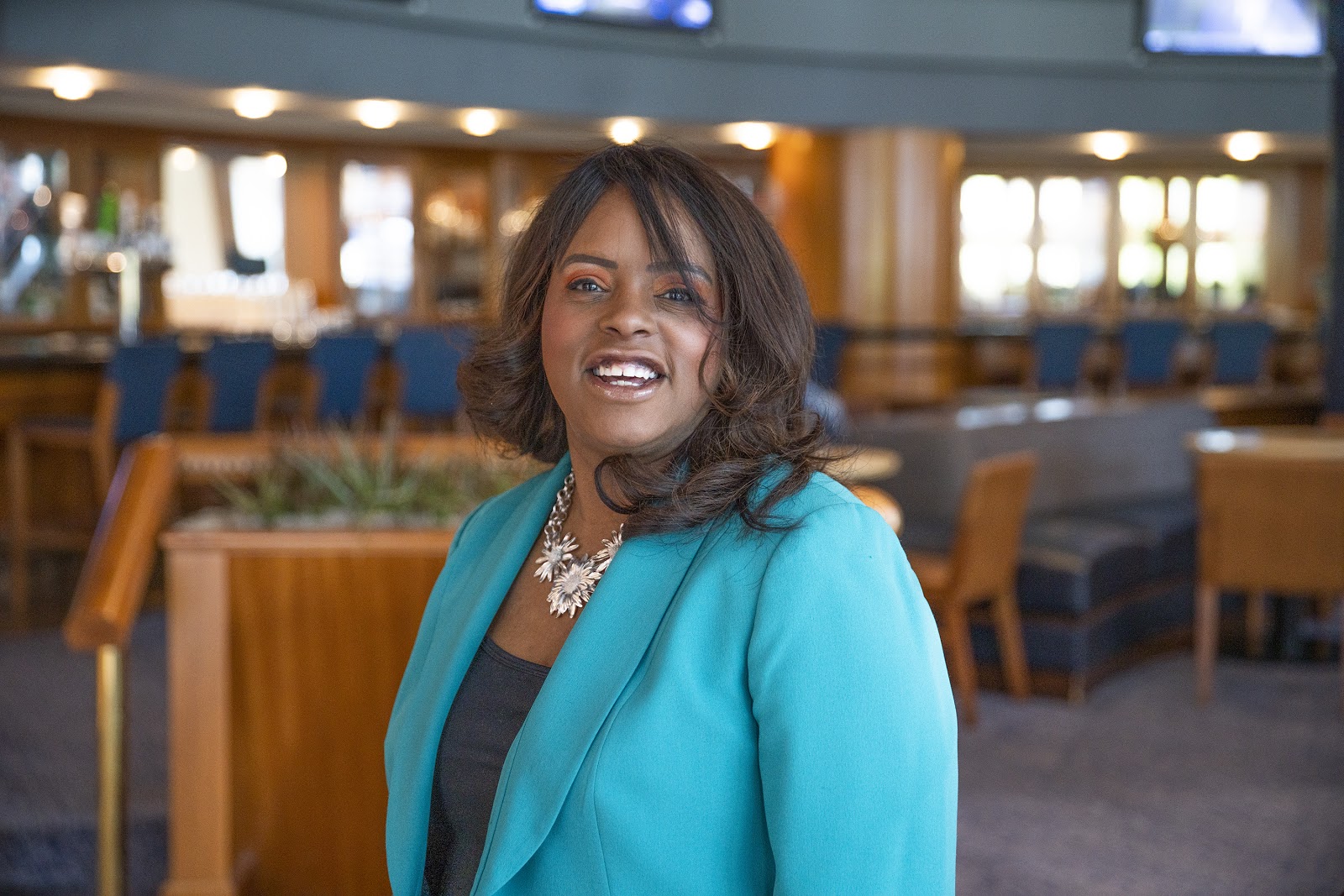 Jess Katz: I'm excited to sit down with you today and learn about your career path. Let's first start with, how did you get into tech?
Stephanie Samuels: Beginning my career in tech started with a series of unfortunate accidents. I'm from St. Louis but was in college halfway across the country in Boston when I found out that my family and I could no longer afford college tuition. I had to figure out how to fulfill my potential by graduating from college despite the financial challenges that so many students face.
After withdrawing from school, I began working full-time as a receptionist at a start-up software company to support myself. The CEO recognized my potential and gave me additional opportunities to learn the business.
During this first year, I was able to claim myself as an independent in the state of Massachusetts, which allowed me to apply for different types of loans since I was no longer classified as a dependent of my parents. Once I had myself established as an independent, I took the bold step to apply to Harvard University and was accepted!
Here's the cool thing — I worked full-time during the day in tech and went to school full-time at night at Harvard and graduated Cum Laude. My Harvard experience was extremely non-traditional. It was a struggle to work full time during the day and maintain a full course load at night but this struggle is what exposed me to technology. I would venture to say that I value my degree more than most because it was so hard to come by and provided me my introduction into technology.
One of the biggest lessons I learned from that time in my life is that even painful and difficult experiences have the ability to positively impact one's life if one embraces it and works hard. Had I not had to initially leave college for financial reasons, I would have never ended up at Harvard University nor would I have been exposed to the technology field. That unfortunate event changed the entire trajectory of my life in ways that I could never have imagined.
JK: That's incredible! How did you get into tech sales?
SS: I got into tech sales because I worked at some awesome technology companies and was exposed to great salespeople. I loved their energy, their drive, and their passion. They weren't stuck in a cubicle all day, every day. They appeared to own their earning potential and that was appealing to me.
Later on, post-graduation, I worked in consumer packaged goods sales for a couple of years, and that was truly the worst job of my life. In that role, my bonuses were linked to a team goal. I was not the master of my own destiny. I realized then, that I had to be in a sales role where income was based on individual contribution and merit, not a team goal. So, I talked my way into a very unconventional interview at PTC, and thus began my technology sales career. The rest, as they say, is history!
JK: I know that diversity is something that you are really passionate about. What has your experience been like throughout your career as a woman of color in tech sales?
SS: As an African American woman in tech sales, my experience has been that generally, I am the only African American in a room. Up until the last 5 or 6 years, frequently I was the only woman in the room. With extremely rare exception, I am the only African American woman in the room. In many ways, this makes me a unicorn of sorts.
Some might perceive being an African American, or being a woman in technology sales as a disadvantage. Like so many other things in my life, I see it as an advantage. One of the biggest challenges a salesperson faces is differentiating themselves from others. In my instance, people always remember me because it isn't often that they run into someone like me in technology sales.
Being a person of diversity, is a distinction that I am honored to have. It's not lost on me that a generation ago my work experience in technology was not possible. I am extremely good at what I do but I have also been blessed with great mentors. That is why I'm honored to mentor women both in and outside of MongoDB. I get involved wherever I can in schools, talking to middle school kids and teenagers, about what is possible, especially when it comes to inspiring our young girls. I'm hypersensitive around the lack of encouragement that girls and young women receive in schools around achieving success in math and science. I believe that this lack of encouragement is why there are disproportionately fewer women in the technology field today.
JK: You've worked in tech sales for many years now, and joined MongoDB in February, 2019. What made you join MongoDB as a Regional Director (RD) in Enterprise Sales
SS: I came to MongoDB after working for just shy of 13 years at my last company. Leaving that company and joining MongoDB was a leap of faith that I decided to take for a few reasons. The first is, I needed a better work-life balance. As a working mom, I was on the road every week. I needed a fulfilling and challenging job; however, I needed far less travel. I knew from the interview process that the sales leadership within MongoDB values the whole person, not just the employee. MongoDB recognizes that people are mothers, fathers, spouses, friends, etc. We have outside interests that define who we are.
The second reason why I joined MongoDB is I knew MongoDB would challenge me in ways that I had not experienced before. Although I loved the people and grew a lot in my role at my last company, I had gotten too comfortable and needed new mental stimulation. As a rapidly growing company, MongoDB is always changing and always innovating — not only in our technology, but also in our sales go-to-market strategy. We are always challenging ourselves and those around us to be the very best we can be and to build the best sales organization that has ever sold technology. I have been so impressed by the fact that my peers are as equally driven for continuous improvement as I am, which is also a tribute to our sales leadership. This team is unparalleled in the technology business. It is no wonder that I have grown more since joining MongoDB than I have in a long time.
The final reason why I joined MongoDB is the technology. I am excited to work for an organization delivering best in breed technology in a market where we have only scratched the surface. I have sold technology for a long time. Never have I sold technology that works like MongoDB! There is a reason why MongoDB is the most wanted database by developers. I have seen first-hand how our technology is the best way to use data, allows our customers to intelligently put it where they want it, and provides the flexibility to use it anywhere. No one else in our space can say that and this is why our customers love us. Who wouldn't want to sell in this type of environment?
JK: As an RD, you are tasked not only to grow the company, but also to lead a team. What is it like to lead a team here as an RD?
SS: Our sales leadership is committed to building the best salesforce in technology… period. This means, inspiring and enabling success for everyone on the team. As a data company, it may come as no surprise that MongoDB uses data to inspire its people — but at MongoDB, we take it to the next level. We use data to provide a roadmap for our people to understand how to achieve their goals. We know what "good" looks like and we know how to get our teams there. This knowledge allows us to onboard new people quickly and continuously develop our ramped salespeople.
Many sales organizations train the individual contributor. Few organizations train the leaders on how to inspire the individual contributor. MongoDB provides the opportunity for all managers to sit with their peers and collectively learn from each other about how to better develop our people, recruit, retain, and use our data to get the best results for and from our people. I have not seen this in other organizations.
It's important to understand people's personal motivations. For example, if an Account Executive has a goal of buying a new home, as an RD, it's my job to help them achieve that goal. Armed with data on what success looks like, I sit down with them and evaluate specifically what we need to do to get there. We map out the best way to leverage the comp plan to achieve their personal goals. We are very detailed about it. Some people might view this as micromanaging, but it's not at all — it's leveraging data to help achieve success. As an Enterprise Account Executive, you leave this meeting feeling inspired because as RDs, we show you how to get to where you want to be. We jump in the boat with you, and tackle these plans in bite-sized, doable, pieces together.
JK: For many people, changing roles is a huge step to take. What does MongoDB do to help new salespeople during their first year?
SS: I am glad you asked that question Jess because MongoDB's onboarding process is second to none. From day one, people joining the sales organization are greeted with a thorough onboarding plan which is a step-by-step guide to learning and enablement. For example, at about the one month mark, new hires attend MongoDB's sales bootcamp where they learn our technology, sales strategy, and pipeline generation playbooks. After bootcamp, the learning and enablement continues in the field.
I mentioned before that MongoDB is a sales-driven organization. This is evidenced by the resources the company dedicates to training and enablement on the first year that a new hire is onboarded. Our technology is great but, our ability to onboard people and make them successful and productive quickly is one of our unique differentiators in the business.
One cannot talk about onboarding new salespeople without discussing the earning potential in your first year and beyond. Upon joining MongoDB, you will have the opportunity to see success and make money in your first year. The RDs at MongoDB dedicate time to new hires and all salespeople on coupling the pipeline generation plays with their comp plans to achieve amazing results.
JK: Your story has inspired me in many ways and I know that it will inspire others. Is there anything else you would like people to know about the sales team at MongoDB?
SS: Yes, there is Jess. If you are looking to be a sales leader at any point in your career, now is the time to join. We have already grown very strongly in the past 1-2 years, and expect to continue to grow. Given our growth expectations, everyone in sales is positioned to experience amazing leadership opportunities. As an organization, MongoDB believes in promoting from within. Over 50% of all current Enterprise Account Executives and Regional Directors have been promoted this year. As good as MongoDB is at onboarding new talent, the company is equally good, if not better, at teaching leadership skills by giving people the skills, tools, and data they need to inspire their people. Most organizations don't have this depth of leadership experience or training.
MongoDB is a special place. Make no mistake about it, all of us here are committed to working hard in order to build something unparalleled in the industry. If you are interested in pursuing a sales career where you will work harder and smarter than you ever have before but be rewarded with amazing growth, learning, experiences, and earning potential, then you should apply and join MongoDB right away!