Aerofiler Brings Breakthrough Automation to the Legal Profession
Don Nguyen is the perfect person to solve a technology problem in the legal space. Don spent several years in software engineering before eventually becoming a lawyer, where he discovered just how much manual, administrative work legal professionals have to do. The company he co-founded, Aerofiler, takes the different parts of the contract lifecycle and digitises them to eliminate manual work, allowing lawyers to focus on things that require their expertise.
Don says the legal profession has always been behind industries like accounting, marketing, and finance when it comes to leveraging technology to increase productivity. Both Don and his co-founder, Stuart Loh, thought they could automate a lot of manual tasks for legal professionals through an AI-powered contract lifecycle management solution.
Turning mountains into automation
Law firms generate mountains of paperwork that must be digitised and filed. Searching contracts post-execution can be an arduous task using the legacy systems most firms are running on today. Initially, Don, Stuart, and Jarrod Mirabito (co-founder and CTO) set out to make searching contracts and tracking obligations easier. As the service became more popular, customers started asking for more capabilities, like digitising and automating the approval process. Aerofiler's solution now manages the entire contract lifecycle, from drafting and negotiations to approvals, signing, and filing.
Don says the difficulty with running AI to extract data is you can't usually see where the data is coming from, and you can't train your models, for example, to extract a concept that might be specific to your industry. Aerofiler supports custom extraction so firms can crawl for and find exactly the results they're looking for, and it highlights exactly where in the contract the data is found.
Aerofiler is unique as a modern, cloud-based Contract Lifecycle Management solution that streamlines contract management processes and enhances workflow efficiency. It features AI-powered analytics, smart templates, and real-time collaboration tools, and is highly configurable to fit the unique needs of different companies. Aerofiler's user interface is also highly intuitive and user-friendly, leading to greater user adoption and overall efficiency.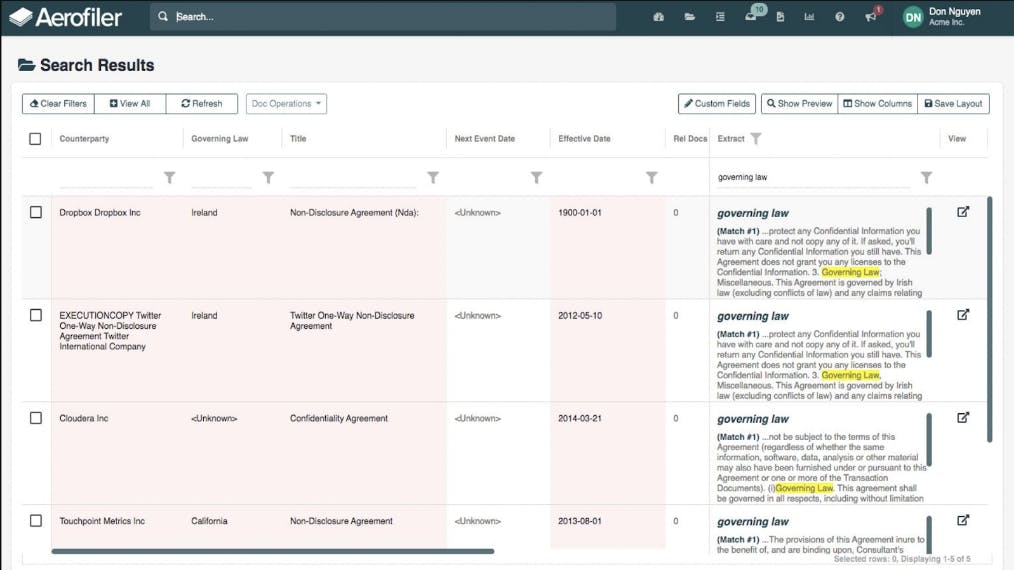 The startup stack
Don has over 10 years of experience working with MongoDB and describes it as very robust. When it was time to choose a database for their startup, MongoDB Atlas was an easy choice. One of the big reasons Don chose Atlas is so they don't have to manage their own infrastructure. Atlas provides the functionality for text search, storage, and metadata retrieval, making it easy to hit the ground running. On top of MongoDB, the system runs Express.js, VueJS, and Node.js, also known as a MEVN stack.
In choosing a database, Don points out that every assumption you make will have exceptions to it, and no matter what your requirements are now, they will inevitably change. So one of the key factors in making a decision is how that database will handle those changes when they come. In his experience, NoSQL databases like MongoDB are easy to deploy and maintain. And, with MongoDB offering ACID transactions, they get a lot of the functionality that they would otherwise look for in a relational database stack.
How startups grow up
Aerofiler is part of the MongoDB for Startups program, which helps early-stage, high-growth startups build faster and scale further. MongoDB for Startups offers access to a wide range of resources, including free credits to our best-in-class developer data platform, MongoDB Atlas, personalized technical advice, co-marketing opportunities, and access to our robust developer community. Don says the free credits helped the startup at a time when resources were tight.
The key to their success, Don says, is in solving problems their customers have. In terms of the road ahead, Don is excited about ChatGPT and says there are some very interesting applications for generative AI in the legal space. If anyone would like to talk about what generative AI is and how it could work in the legal space, he's happy to take those calls and emails.
Are you part of a startup and interested in joining the MongoDB for Startups program? Apply now.