Selling Software vs. Training Conor McGregor: The Winner Is ...
In just one year, Sergey Pikulskiy of the MongoDB Dublin office has earned one of the Top Corporate Account Executive titles for the EMEA region. Impressive, we know. But what's possibly even more impressive, is the additional number one title he is working towards this year.
A Tale of Two Titles
A leader in MongoDB Enterprise Database Software sales, husband, father, and all around good guy, Sergey is also the official wrestling coach for Dublin's own, world-renowned, UFC featherweight champion Mixed Martial Artist Conor McGregor, and has been for the last nine years.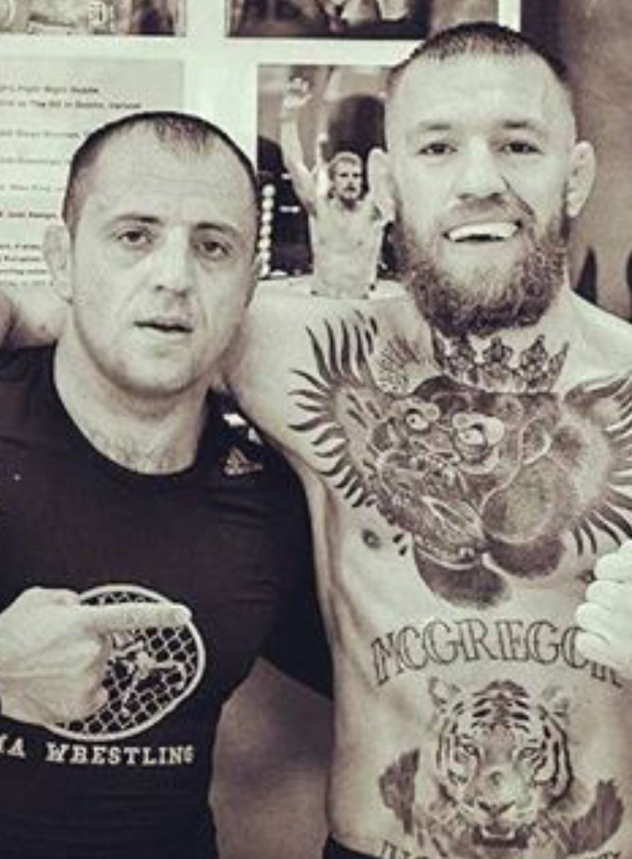 Of course I had to chat with him to find out how in the world he can balance selling Enterprise Software with the pressure of training McGregor, who is set out to make history and win a second championship belt during his NYC fight at Madison Square Garden in November.
Strength from Success
"My success stems from wrestling," he says. "If you want to [win] you focus. You do a 2 or 3 hour training every day and do not cut corners. Same goes for when I set out to do something else in life. When I am at work, I want to get the maximum of whatever I am doing. I have a lot of energy, with a training and competition mentality. It is really balancing my life, making my brain and body healthy. I follow necessary steps when selling to customers, ensuring everyone is happy. If I don't do well, I will go back to assess and analyze the situation, so I can improve for the next time. Win or learn! It's not easy at all but you must always try your best. In life you should always keep improving. The same with work, relationships, sport, family, etc. If people stop progressing for themselves they will wilt."
Meeting McGregor
Since he was 11 years old and living in the then USSR-Republic of Moldova, Sergey has been a wrestler, competing in hundreds of competitions and tournaments all over the world. Software Sales of course came later on, but wrestling never stopped. After a severe spinal injury, of which he was told he would never recover from (but ultimately did,) Sergey could no longer compete. Because wrestling is a part of who he is, he set out to coach, which is how he met the then 18 year old kid from Dublin, Conor McGregor.
Before MongoDB, Sergey was a part of other software organizations which were unable to provide him with such flexibility to sell their product and train Conor in tandem. He knew he was more than capable of succeeding in both aspects of his life, he just needed to find the right employer who would support it. He then met MongoDB Chief Revenue Officer Carlos Delatorre, and began interviewing for the role of Corporate Account Executive. At that same time, he was training McGregor for the 2015 UFC 189 Vegas Fight against Chad Mendes, which McGregor won in the second round. After the fight he spent some time filming the Fox Sports series 'Ultimate Fighter' with McGregor and Team Europe, and then in September 2015 joined the MongoDB team in Dublin.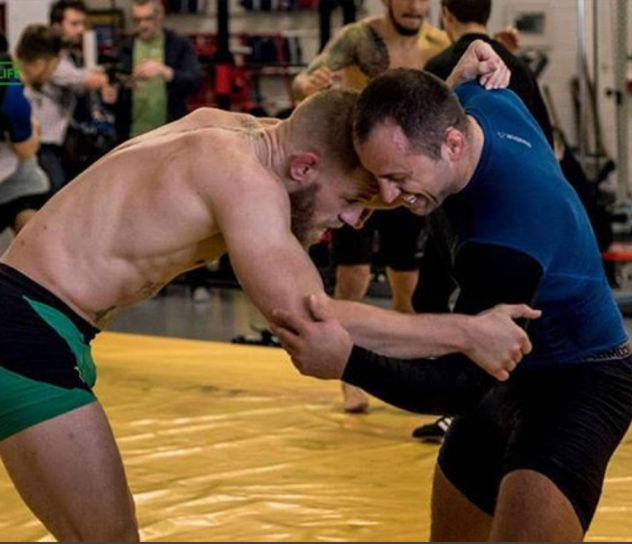 Wrestling, Working, and Winning
Admirably enough, McGregor isn't the only fighter Sergey is training. After work he is a class instructor at the SBG gym in Dublin for people from all over Europe, including the Pro Team. How does he manage it all? Sergey says, "... At the same time I am enjoying making money at MongoDB. I like the flexibility, and the new technology, and helping customers build on MongoDB. It's the software economy. I can be a wrestling coach but still understand it and still get it done."
"I will do this regardless of the job," he continues. "However with MongoDB it has been no problem, it has been understandable and very easy going. My leaders are very helpful in my day to day. People are exceptionally nice in the company and if the atmosphere wasn't great I would lean towards something else. But it [MongoDB] is very flexible and doesn't stop you from doing what you need to do as long as you do your job. You won't get that in other places."
When someone asks us "What do you do?" we automatically assume they mean for work, and while the assumption is understandable, it's certainly not all we do. At MongoDB we fully support, and encourage extra curriculars being the answer to what you do. While everyone here is a MongoDB employee, some of us are marathoners and expert coders, others are gamers and Doctorate holders, and then there's those who train professional MMA fighters, with a number one title of their own.
Interested in learning more about the people and opportunities at MongoDB?
Visit MongoDB Careers
About the Author - Andrea Dooley
Andrea is one of the newest members of the MongoDB Recruitment team, focusing on Employer Branding and Social Recruitment. She strongly believes that an employer should always strive to better the life of its employees, and honored to be able to share the way in which we do this at MongoDB everyday.