Introducing the MongoDB Masters Program for 2018
My name is Michael Lynn and I'm the Worldwide Director of Developer Advocacy at MongoDB. I'm incredibly proud to be a part of the Developer Relations and Marketing team here at MongoDB.
A majority of what we do in Developer Advocacy is related to increasing awareness of MongoDB within the community of developers and data scientists. We do this through involvement in a variety of user groups, industry conferences, and events as well as through management of the MongoDB Masters Program.
This program was created to recognize leaders within their community, experts in MongoDB, and professionals who freely share their knowledge. This year's class includes returning Masters, as well as new members who have distinguished themselves in the past year.
MongoDB Masters in years past have provided valuable product feedback and driven thought leadership in their fields. We look forward to deepening this relationship over the coming year. This year's class of Masters will also be encouraged to participate in beta testing programs, share their experiences with MongoDB, and continue to expand and broaden their own voices as leaders in the technical community.
The Masters program has been an incredibly rewarding and valuable program for MongoDB and we greatly appreciate the efforts of our most vocal, and most active supporters. This is why we've put so much time and effort into creating a program to recognize these individuals and thank them for their contributions.
Master Honorees enjoy benefits ranging from access to the MongoDB Engineering and Product Management teams to discounted MongoDB Atlas Credits.
Preparations are underway for the MongoDB Masters Summit, which will be held on Tuesday, June 26th as part of MongoDB World 2018. We'll have several speakers and a special Q&A session with Eliot Horowitz, our Co-Founder, and CTO. We encourage all members of our community to register for MongoDB World 2018, meet the Masters in person, and join our Advocacy Hub to start their own path to becoming a MongoDB Master.
So, all this talk of Masters – how, you might be thinking, do I become a Master?
Before I dive into an explanation of the requirements, please take a moment to review the bios of some of the existing Masters. You'll easily spot some things in common across all of these incredibly talented and accomplished individuals.
Passion
Masters are passionate about technology and about solutions to technical problems. This passion drives these individuals to do things that few technologists will do. While this attribute is common among the existing and past Masters, it's not easy to measure. You know it when you see it and it's woven into the careers of many of the people I've encountered surrounding this program.
Impact
If passion is fuel, then impact is fire. Impact is the result of the passionate pursuit of worthy causes. Again, this is an attribute easily found in common across our Masters membership. Measuring impact is also difficult because in many cases, especially when dealing with the Masters, the impact of their actions, projects, and even their careers is widespread. Masters are individuals that positively impact their families, teams, companies, and their communities.
Execution
Execution is the spark that ignites fire. Elegant, efficient and effective solutions to technical challenges rarely, if ever, happen by accident. Rather, truly successful solutions require intelligent, deliberate execution – and in most cases, hard work. I strongly encourage you to spend time with any of the Masters and it will become clear that these individuals know how to execute. They know how to get things accomplished.
These are the attributes of a MongoDB Master and to achieve membership, an individual should be passionate about great technology and about solving technical problems. These individuals should have demonstrated, through successful execution, a massively beneficial impact on their company, team and/or community.
Are you interested in becoming a MongoDB Master, or do you think you may already meet the requirements? I would like to invite you to join us at MongoDB World in New York to learn more; consider completing the nomination form below to have yourself or a colleague considered for a MongoDB Masters membership.
Stack Overflow Research of 100,000 Developers Finds MongoDB is the Most Wanted Database
It's well established that developers want to work with a database that offers flexibility, versatility, and ease of use. Scalability and reliability certainly don't hurt either. For an increasing number of developers, MongoDB is the desired solution to meet all these requirements. And for the second year in a row, this has been validated by the opinions of those who matter most — developers themselves.
Today, we're excited to announce that, for the second year in a row, MongoDB is the most wanted database in the Stack Overflow Developer Survey 2018, the world's largest developer survey with over 100,000 respondents.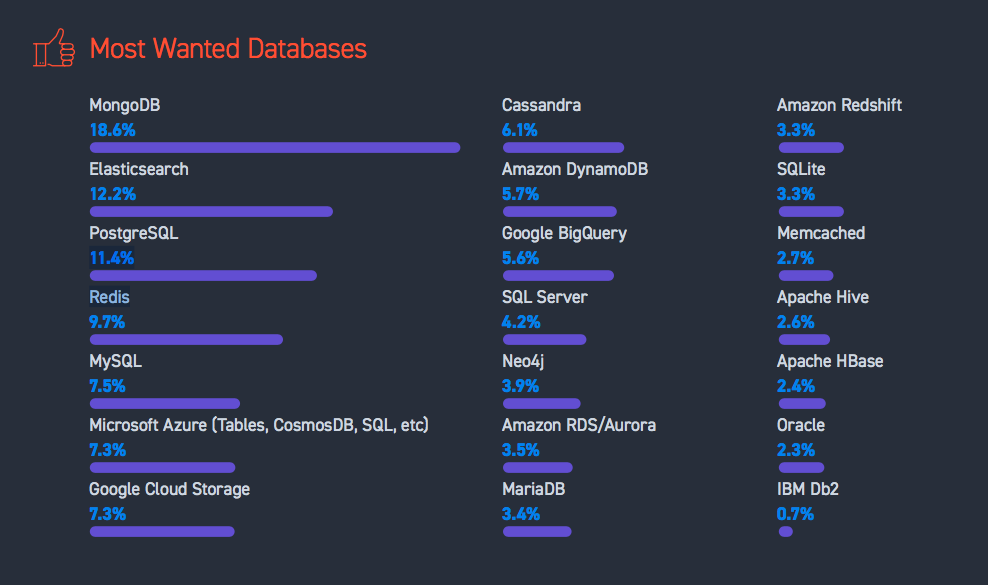 Steady Increases in Popularity
Since its debut, MongoDB's popularity among developers has steadily increased. This popularity has been driven primarily by the platform's ease of use and flexibility; more recently, the release of the fully managed database service MongoDB Atlas has made it easier than ever to run the database in any of the major cloud platforms.
MongoDB continues to innovate, listening and reacting to the demands of developers from small startups to the largest of enterprises. New and exciting features to the platform include change streams, which push real-time data updates to downstream applications, retryable writes, which enhance reliability without increasing complexity, and the announcement of multi-document ACID transactions, coming in version 4.0 later this year.
Why MongoDB?
MongoDB's document model offers developers massive increases in productivity by allowing developers to store data in a way that is consistent with how they think and create applications. Additionally, MongoDB's native replication and horizontal partitioning give developers the confidence and freedom to concentrate on differentiating code without having to be concerned about challenges associated with data locality, reliability and scalability. Lastly, MongoDB offers the freedom to run consistently all the way from local development environments to the largest mainframe deployments. The database can be deployed on-premises, in a hybrid cloud, or in any of the public clouds.
How can you benefit from this news?
Hiring managers seeking talented developers may do well to review some of the additional statistics included in today's release. One interesting statistic can be found in the chart entitled "How Developers Assess Potential Jobs". If you are a hiring manager and you're looking to attract top talent, considering the most wanted database platform might be a way to enhance the attractiveness of your opportunities.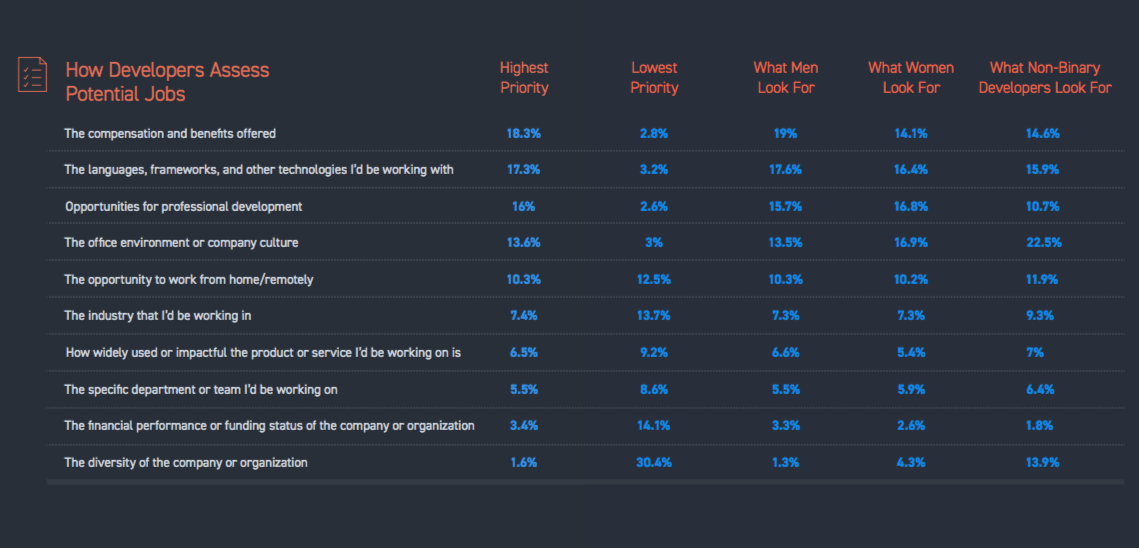 Javascript and Python developers reviewing the Stack Overflow report will be encouraged as these development environments continue to grow in popularity. Popularity of web application stacks like MEAN or MERN have provided Javascript developers with frameworks for building applications quickly.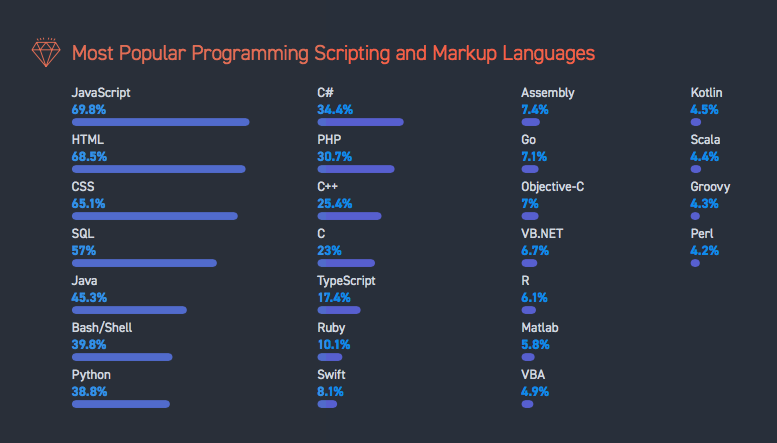 Not using Javascript or Python? MongoDB offers full support for these and all popular development languages. Want to use Golang with MongoDB? A fully supported MongoDB Golang driver has reached Alpha stage in development, giving even more options to developers to build with the latest and most popular languages.
In summary
Developers are the new Kingmakers and their opinions are vitally important. The results of the Stack Overflow survey are an exciting validation of MongoDB's efforts to build a resilient, flexible, and easy-to-use platform wanted by developers the world over.
---
Are you looking to learn more?
MongoDB University offers free courses for beginners, developers, database administrators, and operations personnel. Get online education about MongoDB Atlas, Compass and other products to help developers build great modern applications.
Want to build right away with MongoDB? Get started today with a 512 MB database managed by MongoDB Atlas here.