MongoDB Enterprise Server for Pivotal Cloud Foundry goes GA
Last fall we launched MongoDB Enterprise Server for Pivotal Cloud Foundry (PCF) in beta. Earlier this year, we released v1.0.1, our first GA version of the integration. This week, we're happy to announce the next version, v1.0.3. In this post will outline all of the new post-beta features we've added to our PCF tile. For information on how the tile works and more background, please check out my colleague's excellent post.
New Features:
MongoDB 3.6 and MongoDB Ops Manager 3.6.2+ are now supported
Support for Organizations/Projects in MongoDB Ops Manager
Stemcell now follows all published MongoDB production best practices
Backups can now be enabled by default
T-Shirt sizing for PCF cluster VM specifications
TLS/SSL for MongoDB deployments using Bosh DNS
Speed: Devs and users care about getting features out quickly. They are reorganizing their teams to work on Strategic Initiatives like microservices. They need a database that supports traditional use cases as well as newer ones. These new features together with PCF help address these concerns. The MongoDB Enterprise Server for PCF Tile allows customers to leverage two powerful solutions for database management simultaneously to enhance their DevOps processes and accelerate development.
Standardization to mitigate risk: The PCF PaaS delivers features such as machine provisioning and initialization, and MongoDB Ops Manager provides runtime database management. Together these solutions allow modern enterprises the ability to ensure consistent configuration, security policies, backup, and monitoring are applied across the board to development, test, and production deployments.
Ease of use: This powerful combination additionally affords application developers the capability to deliver out-of-the-box cloud-ready solutions without needing to worry about complex infrastructure details. If you haven't already, download MongoDB Ops Manager and the latest MongoDB Enterprise Server for PCF Tile today!
MongoDB 3.6 and MongoDB Ops Manager 3.6.2+ are now supported
You must use MongoDB Ops Manager 3.6.2 or later for this version of the tile. The reason for this is the shift from a strict single level hierarchy of "Groups" in MongoDB Ops Manager to the more versatile "Organizations/Projects" structure. Refer to the Ops Manager documentation for more information.
Support for Organizations and Projects in MongoDB Ops Manager
The beta versions of the tile generated a cluster (group) name which wasn't very human-friendly. This version resolves this issue by allowing users to specify a cluster (project) name for their deployment at service provisioning time.
Stemcell now follows all published MongoDB production best practices
We have integrated all of the production best practices defined in the production notes. These best practices ensure that PCF tunes your MongoDB clusters with the optimal operating system settings for maximum performance and least risk.
Backups can now be enabled by default (v1.0.3)
Certain organizations enforce strict policies around backups due to regulatory restrictions. MongoDB Ops Manager offers the ability to backup any MongoDB deployment with point-in-time restores and queryable backups. This version of the tile supports the ability to enable backups by default for all MongoDB clusters. Alternatively, backups can be disabled by default and enabled for a cluster during service provisioning. Organizations no longer need to manually configure backups to ensure all deployments are always backed up for disaster recovery and governance scenarios.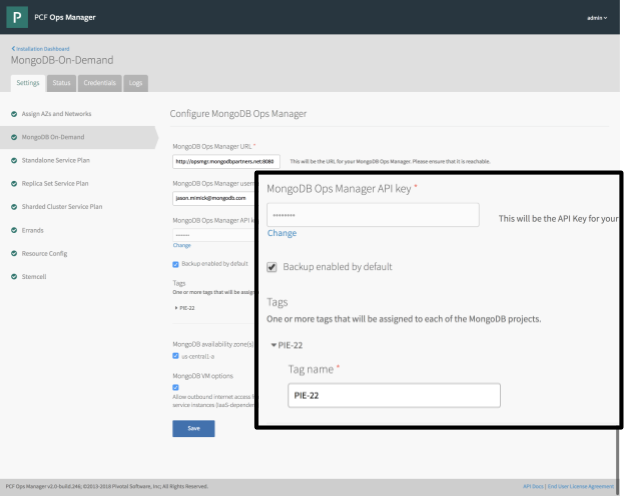 Figure 1: MongoDB Enterprise Server Tile for PCF configuration in PCF Ops Manager
T-Shirt sizing for PCF cluster VM specifications (v1.0.3)
Beta versions of the tile only allowed for a single "VM type" (CPU/RAM/Disk) to be defined for all deployed MongoDB clusters. This version provides the ability to define three different "VM types". These types (Small, Medium, and Large) allow PCF operators to define categories of cluster types and then limit which types specific PCF users are allowed to deploy. The ability to support a wide variety of cluster types and sizes will enable an enterprise to support self-service scenarios and provide MongoDB as a service right out of the box.
TLS/SSL for MongoDB deployments using Bosh DNS
PCF Operators can now deploy MongoDB clusters with TLS/SSL enabled. The tile configuration in PCF Ops Manager now includes a new security tab in which one can enter the appropriate certificates and private PEM key files for database servers and Certificate Authorities. These will then be automatically distributed to each MongoDB server, deployed into known locations which can then easily be entered into the security settings for the corresponding MongoDB Ops Manager project for the deployment.
Conclusion
In our beta releases we focused on core functionality, and now with our GA and subsequent release, we have included some key usability features and other helpful additions. Please download and install the tile, wire it up to your MongoDB Ops Manager instance, and take it for a drive. To get started watch this demo video and refer to our documentation.
Also – check out a recent webinar we delivered with Pivotal for a hands-on look at using the MongoDB Enterprise Service Tile for PCF to refactor legacy monolith applications into microservices: How to Overcome Data Challenges When Refactoring Monoliths to Microservices.
MongoDB Enterprise Running on OpenShift
Update: May 2, 2018
Our developer preview of MongoDB Enterprise Server running on OpenShift now includes a simple OpenShift Template. The mongodb-openshift-dev-preview.template.yaml template file reduces the complexity and additional requirements of running OpenShift with the --service-catalog enabled and deploying the Ansible Service Broker (not to mention needing to install the apb tool on your development system in order to build and deploy the Ansible Playbook Bundle). Currently the template can provision multiple pods each running an automation agent configured to the same MongoDB Ops Manager Project. You can complete the deployment of a MongoDB replica set with a few quick clicks in the Ops Manager user interface. We hope the removal of these additional dependencies helps you and your organization quickly adopt this modern, flexible, and full featured way to deploy and run MongoDB Enterprise on your OpenShift clusters. And, stay tuned! This is the tip of the iceberg for support of your cloud native workloads from MongoDB.
---
In order to compete and get products to market rapidly enterprises today leverage cloud-ready and cloud-enabled technologies. Platforms as a Service (or PaaS) provide out-of-the-box capabilities which enable application developers to focus on their business logic and users instead of infrastructure and interoperability. This key ability separates successful projects from those which drown themselves in tangential work which never stops.
In this blog post, we'll cover MongoDB's general PaaS and cloud enablement strategy as well as touch upon some new features of Red Hat's OpenShift which enable you to run production-ready MongoDB clusters. We're also excited to announce the developer preview of MongoDB Enterprise Server running on OpenShift. This preview allows you to test out how your applications will interact with MongoDB running on OpenShift.
Integration Approach for MongoDB and PaaS
Platforms as a Service are increasingly popular, especially for those of you charged with building "cloud-enabled" or "cloud-ready" applications but required to use private data center deployments today. Integrating a database with a PaaS needs to be done appropriately to ensure that database instances can be deployed, configured, and administered properly.
There are two common components of any production-ready cloud-enabled database deployment:
A modern, rock-solid database (like MongoDB).
Tooling to enable telemetry, access and authorization, and backups (not to mention things like proactive alerting that integrates with your chosen issue tracking system, complete REST-based APIs for automation, and a seamless transition to hosted services.) For MongoDB, this is MongoDB Ops Manager.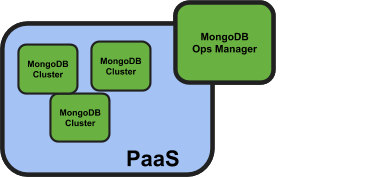 A deep integration of MongoDB Ops Manager is core to our approach of integrating MongoDB with popular PaaS offerings. The general design approach is to use the "separation of concerns" design principle. The chosen PaaS handles the physical or virtual machines, CPU and RAM allotment, persistent storage requirements, and machine-level access control, while MongoDB Ops Manager controls all aspects of run-time database deployments
This strategy enables system administrators to quickly deploy "MongoDB as a Solution" offerings within their own data centers. In turn, enterprise developers can easily self-service their own database needs.
If you haven't already, download MongoDB Ops Manager for the best way to run MongoDB.
MongoDB Enterprise Server OpenShift Developer Preview
Our "developer preview" for MongoDB on OpenShift can be found here: https://github.com/jasonmimick/mongodb-openshift-dev-preview. The preview allows provisioning of both MongoDB replica sets and "agent-only" nodes (for easy later use as MongoDB instances) directly through OpenShift. The deployments automatically register themselves with an instance of MongoDB Ops Manager. All the technical details and notes of getting started can be found right in the repo. Here we'll just describe some of functionality and technology used.
The preview requires access to an OpenShift cluster running version 3.9 or later and takes advantage of the new Kubernetes Service Catalog features. Specifically, we're using the Ansible Service Broker and have build an Ansible Playbook Bundle which installs an icon into your OpenShift console. The preview also contains an example of an OpenShift template which supports replica sets and similar functionality.
A tour and deploying your first cluster:
Once you have your development environment ready (see notes in the developer preview Github repository) and have configured an instance of MongoDB Ops Manager you're ready to starting deploying MongoDB Enterprise Server.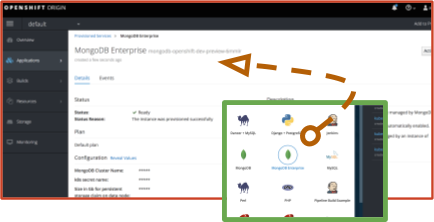 Clusters can be provisioned through the OpenShift web console or via command line. The web console provides an intuitive "wizard-like" interface in which users specify values for various parameters, such as MongoDB version, storage size allocation, and MongoDB Ops Manager Organization/Project to name a few.
Command line installs are also available in which parameter values can be scripted or predefined. This extensibility allows for automation and integration with various Continuous Integration and Continuous Delivery technologies.
A future post will detail cluster configuration and various management scenarios, such as upgrades, performance tuning, and troubleshooting connectivity, so stay tuned.
We're excited to introduce simple and efficient ways to manage your MongoDB deployments with tools such as OpenShift and Kubernetes. Please try out the developer preview and drop us a line on Twitter #mongodb-openshift or email bd@mongodb.com for more information.
---
Be a part of the largest gathering of the MongoDB community.
Join us at MongoDB World
.