Choosing a Big Data technology is a strategic and long-term investment. Given that technologies with large and growing communities like Linux tend to endure and foster the best third-party application ecosystems, organizations evaluating Big Data projects should consider which technologies have the most momentum and adoption. MongoDB is the fastest-growing community in Big Data based on a wide array of metrics. And while MongoDB is not the largest Big Data community by every measure, MongoDB's large base and meteoric trajectory position it as essential Big Data infrastructure for years to come.
A diverse set of of data points — including jobs data, search volume and meetups — illustrate MongoDB's clear leadership. We compare MongoDB to a host of Big Data technologies and commercial vendors. Comprehensive data was not available across all sources. As such, in all cases we compare MongoDB to Cassandra and Hadoop (along with adjacent technologies like Hive and HBase), and where possible we include other technologies such as Couchbase, Riak, CouchDB and Redis. Our findings are captured below.
Google Search
Google search volumes are one way of gauging vibrancy and growth of Big Data technologies. Google Trends data indicates that at 2,000%+, MongoDB is growing substantially faster than any other technology in Big Data since June 2009. Note: to mitigate the risk of incorporating searches for similar terms not related to Big Data (e.g., people named "Cassandra"), we limited searches to the "Computer and Electronics" category. To measure growth (vs. volume), we select the "Compare to Category" option.
Stack Overflow
Stack Overflow is a popular online Q&A site for programmers. The number of questions with a particular tag (e.g., a technology or framework) provides insight into how many users are engaging with that topic. Similarly, follower count is an indicator of a given community's. Using the Stack Exchange query tool reveals that questions tagged with MongoDB are growing faster than those of any other Big Data technology (600x more tags from September 2009 to January 2013). MongoDB also leads in raw number of questions tagged and followers. Finally, MongoDB has more than 3x the growth and size of questions tagged and followers versus that of the next largest Big Data technology.
LinkedIn
LinkedIn's skills page tracks the number of users who list a particular skill in their profiles. This not only indicates the popularity of a given technology or skill set, but also reflects the community's perception of what skills are valued in the job marketplace. MongoDB is growing at a breakneck pace (73%), faster than any other technology in Big Data. MongoDB also ranks a close second in terms of absolute size.
Meetup.com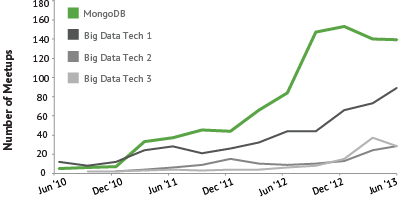 A community is nothing without in-person interaction, and Meetup.com provides insight into real-life community engagement. Examining the number of locations, meetups and members for each major Big Data community shows MongoDB's leadership. MongoDB has grown approximately 500% since April 2010 — more than any of its peers — with 2x-3x more meetups since February 2012.
Brandwatch
Analyzing data from Brandwatch.com, a web tracking platform that monitors blogs, forums, and social media, further shows that MongoDB is the fastest growing community in Big Data. From July 2010, MongoDB has outgrown most, if not all of its peers (unfortunately, due to limitations, we were unable to compare all communities), at 4,277% growth, more than 2x the rate of the next fastest growing technology measured.
Additional Metrics
One final way to measure Big Data communities is to track social conversations around particular technologies. Here, MongoDB really stands out. MongoDB's social media presence illustrates its size and vibrancy in the big data community.
Facebook. MongoDB has over 2x more Facebook likes than any other Big Data technology.
Twitter. MongoDB has over 1.5x more Twitter followers than any other Big Data technology, as well as substantially greater engagement. Among its peers, MongoDB is mentioned most often and has the highest percentage of tweets retweeted and favorited.